Dental Implants – Rochester, MN
Restore Your
Entire Smile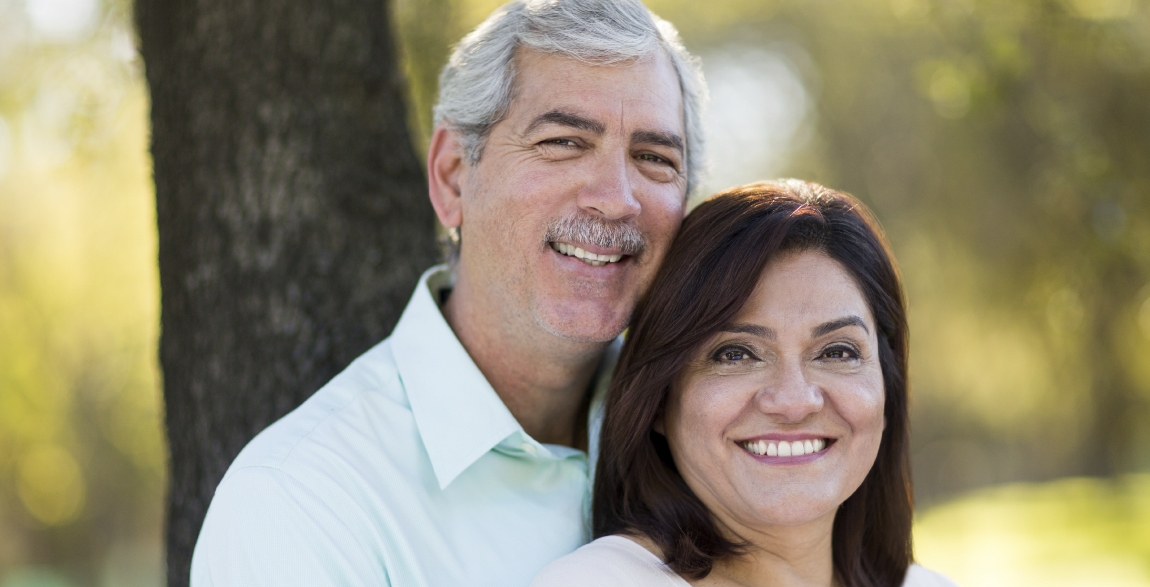 Have you lost one or more teeth? This can be a devastating experience for both your oral health and your quality of life. Even worse, doing nothing about it can lead to jawbone deterioration, higher risk of infection, and additional tooth loss over time. If you're ready to complete your smile, Dr. Nicholas Brong has the solution you need with dental implants in our Rochester, MN dental office. Our team at Zumbro Family Dental offers multiple options to fill the empty spaces.
Why Choose Zumbro Family Dental for Dental Implants?
Partnered with Local Implant Specialists
Judgment-Free Environment
State of the Art Dental Technology
What are Dental Implants?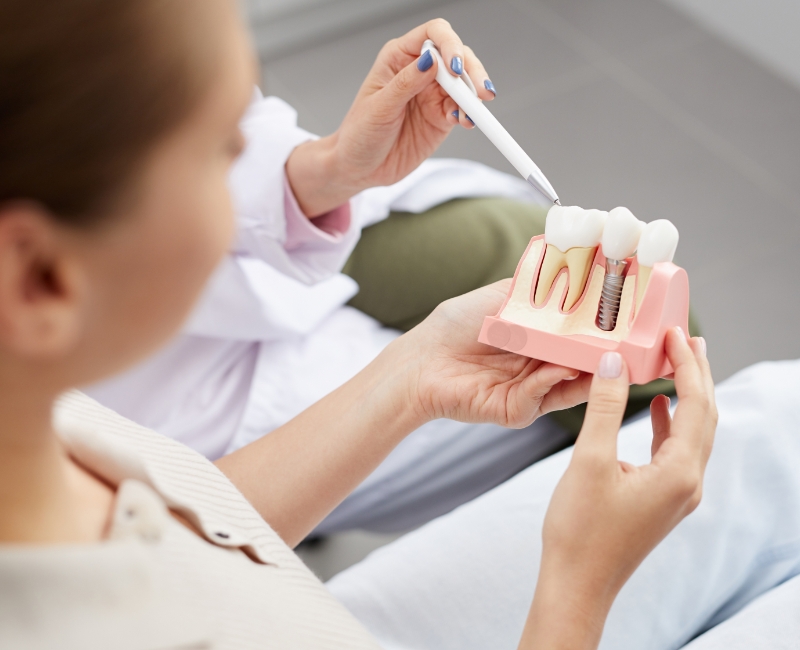 Dental implants can be considered artificial tooth roots. While other tooth replacements are only concerned with filling in the empty space above your gums to recomplete your visible smile, dental implants go a step further and join directly with the jawbone. Needless to say, prosthetic teeth that are anchored to the mouth via surgically placed dental implants will be much more stable and provide greater chewing power than those that just sit on the gums or other teeth.
The 4-Step Dental Implant Process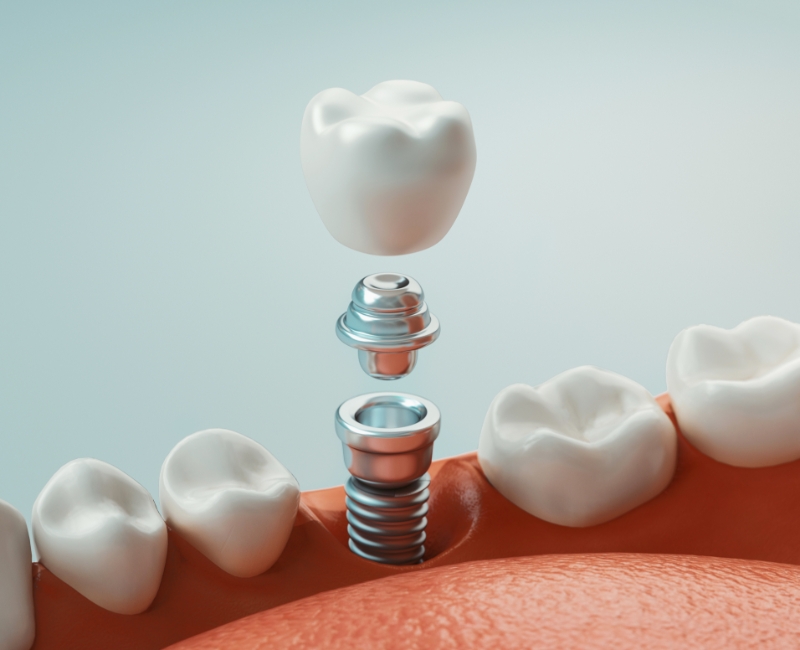 The dental implant process isn't exactly the same for everyone, but it can typically be divided into four steps:
The first step is the dental implant consultation where we examine your mouth to determine how many teeth are missing and whether you're healthy enough for the procedure. Some preliminary work like bone grafting may have to be done before moving on to the next step.
The second step is dental implant surgery. A trusted implant specialists will insert one or more implant posts in your jaw in carefully chosen areas.
After a few months of waiting for osseointegration (the process of the bone joining with the implant) to complete itself, abutments are attached to the implant posts.
You'll return to our dental office for the final step, which is designing and placing the final restoration.
Benefits of Dental Implants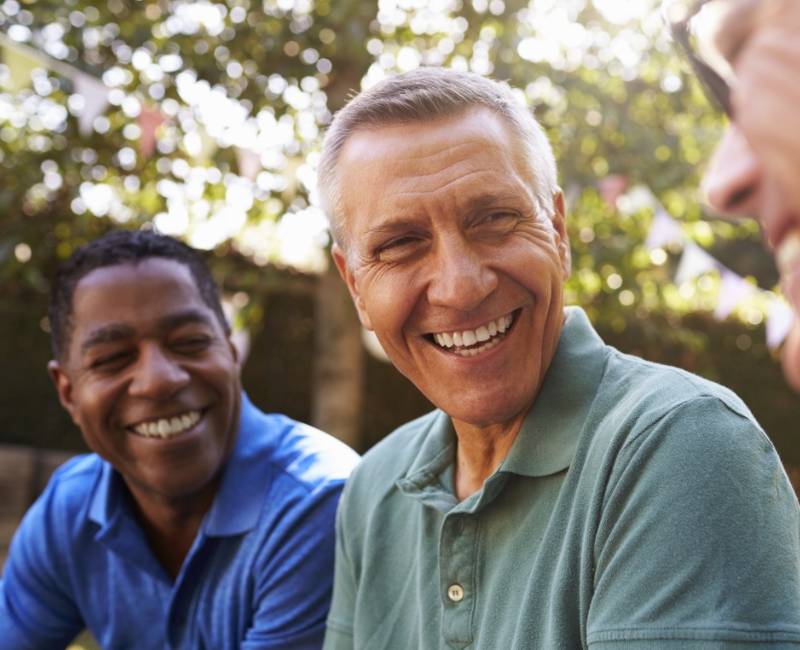 The secret behind the success of dental implants is the fact that they replace both the root and crown of your tooth. Traditional solutions only replace the crown. While this does restore some oral functions, lack of a root will still cause the jawbone to deteriorate. Dental implants are the only available treatment to replicate the full structure of the tooth to protect your bone density.
Due to this unique process, dental implants offer exceptional benefits that are not possible with conventional treatments.
High Success Rate: The titanium, biocompatible post allows dental implants to offer over a 95% success rate.
Long-Term Solution: With the right aftercare, they can last for a lifetime.
Protect Natural Teeth: Dental implants do not relay on your remaining natural teeth for support. They will not be changed to stay strong and healthy.
Improves Oral Health: Dental implants restore your bone density to lower the risk of infection, tooth decay, and additional tooth loss.
Look and Feel Natural: Dental implants closely look and function naturally. You will enjoy an increased biting force of over 70% when compared to dentures
Who Dental Implants Can Help
You're a candidate for dental implants if you have a healthy mouth, a jaw containing enough bone tissue to support the posts and are willing to commit to optimal oral hygiene habits to protect your investment over the long term. It doesn't matter if you're missing one tooth or all of your teeth; as long as you're considered a viable candidate for the procedure, you can completely restore your smile with dental implants with the following treatments:
Missing Single Tooth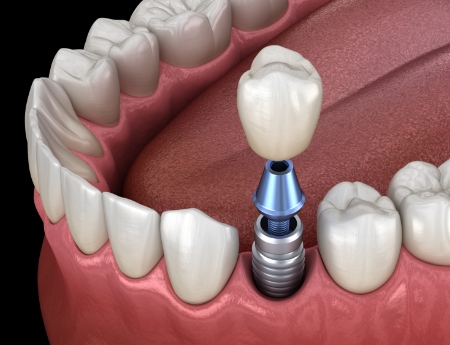 A single tooth can be replaced using an implant post, an abutment, and a crown. The implant post is surgically placed into your jawbone. After it has fused to the post, an abutment is placed on it. This is a connector piece to allow a dental crown to be attached.
Missing Multiple Teeth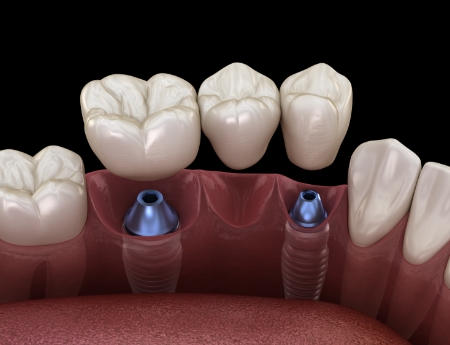 To bridge the gap between several missing teeth, dental implants can be used to anchor your prosthetic teeth in place. As an alternative to a traditional bridge, crowns are not needed. Instead, 1 to 2 implant posts are used to hold it in place.
Missing All of Your Teeth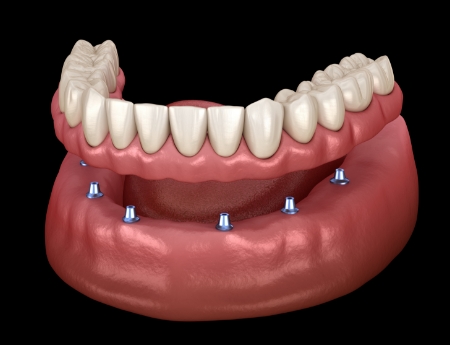 If traditional dentures have failed to work for you in the past, you can enjoy the stability of dental implants. An average of 4 implant posts are used to anchor your denture in place. You can chew, speak, and smile with confidence.
Understanding the Cost of Dental Implants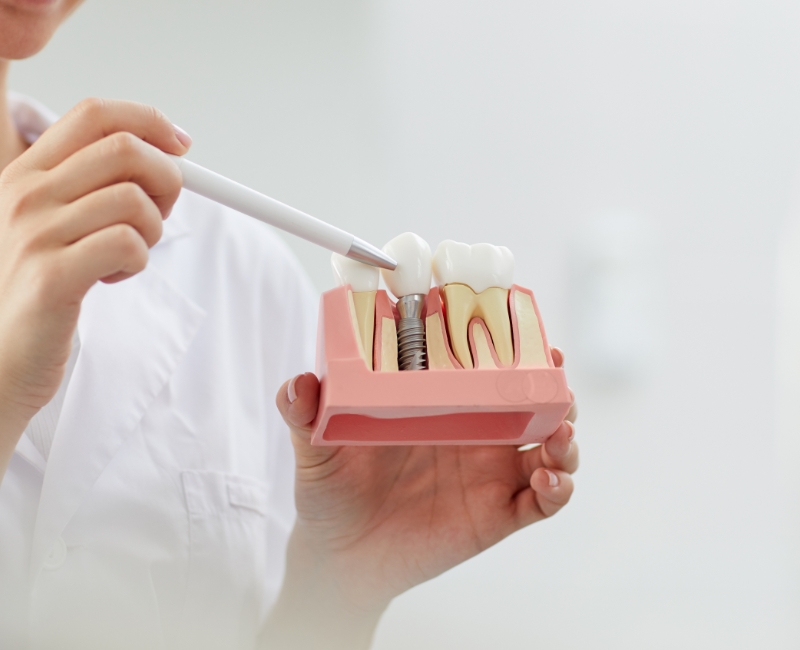 The cost of the procedure is determined by your individual treatment plan. There are several things that will influence the price, such as if you need a single implant or a 3-untit bridge. In addition, if any additional procedures are needed, you can also expect the cost to increase. While they may cost more than traditional options, you will make a long-term investment because your new smile can last for decades.
If you are ready to improve your smile with dental implants, Dr. Brong can help. Contact our dental office today to schedule your consultation.
Dental Implant FAQs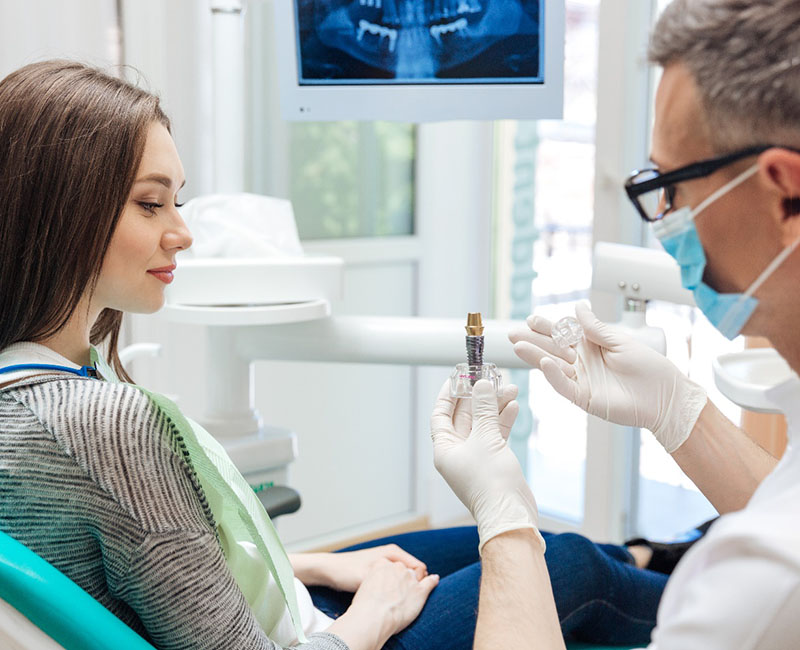 If you're interested in replacing your missing teeth with an effective restoration, then dental implants are the gold standard you've been looking for. Though you can expect to appreciate numerous benefits from this treatment, you might have some concerns about the procedure before committing to it. To help you feel more comfortable and confident about your decision, our team has collected some of the most commonly asked questions we get about dental implants in Rochester. Read on to learn more or give our office a call to schedule your initial consultation.
Does Getting Dental Implants Hurt?
Our team will work closely with a trusted implant specialist to provide you with the best tooth-replacement solution you deserve. During your appointment, your oral surgeon will ensure your mouth is completely numbed with a local anesthetic, that way you don't have to worry about discomfort. They may also provide you with sedation dentistry to help you stay relaxed throughout the procedure. While you'll technically remain conscious throughout the process, you may not even remember how your appointment went. After your surgery, you might feel some mild discomfort and soreness for several days. This can be managed with painkillers and a cold compress. If your symptoms worsen within three days, call us for help.
Will I Have to Take Off Work for Dental Implant Surgery?
The majority of patients only need to take off about a day or two when getting dental implants. That said, if your job is more physically demanding, then we'll ask that you take three to four days off instead. Heavy exercise or intense activity can end up diverting blood away from the surgical site where the blood clot should be forming, delaying your recovery. Since every patient is different, you'll want to consult your dentist so that they can recommend the best way to prepare for your procedure.
How Long Do Dental Implants Last?
The answer to this will mainly depend on a person's lifestyle habits and oral health. To make sure that your dental implants last, you'll need to practice good oral hygiene, such as brushing, flossing, and rinsing with mouthwash every day. Visiting your dentist every six months will also help you maintain a clean mouth and avoid complications like cavities and gum disease. You'll also want to avoid chewing on particularly hard or sticky things, as they can cause damage to your implants. All in all, with proper care, your dental implants should be able to last several decades to a lifetime!
Can I Get Dental Implants If I'm Diabetic?
As long as you have your condition under control, your chances of having successful dental implants will be about the same as those who are nondiabetic. If you don't keep your diabetes in check and/or your blood sugar is too high, you can risk delaying your recovery, which will make it more challenging for your implants to fuse with your jawbone. Be sure to consult your endocrinologist or primary care professional so that they can help you get your blood sugar levels in check before moving forward with your treatment.