Dentures – Rochester, MN
Replacing Most or All of Your Teeth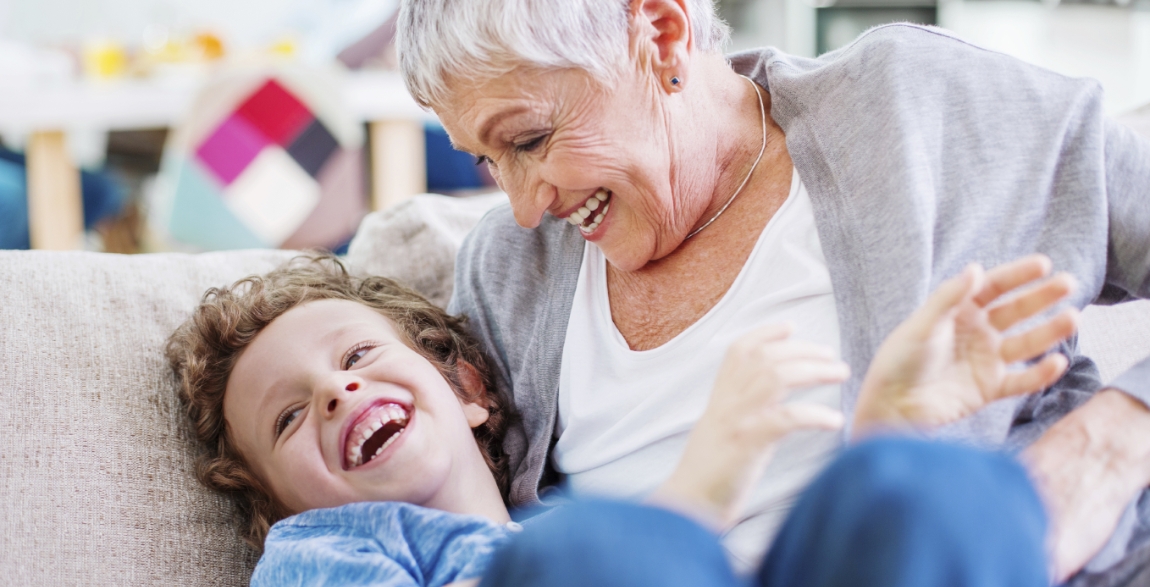 Every tooth in your mouth plays an important role in your dental health and functions. When even one is missing, you not only lose your confidence but your ability to eat and speak clearly. After several have been lost, your general and oral health become compromised if they are not replaced. To avoid dietary restrictions and complications to your mouth, Zumbro Family Dental has the solutions you need to regain a complete, healthy smile. As your general dentist, we offer dentures in our Rochester, MN dental office to fill the empty space of missing teeth.
Why Choose Zumbro Family Dental for Dentures?
Dentist with Advanced, Specialized Training
State-of-the-Art Dental Technology
Judgement-Free Dental Office Environment
Treat Your Tooth Loss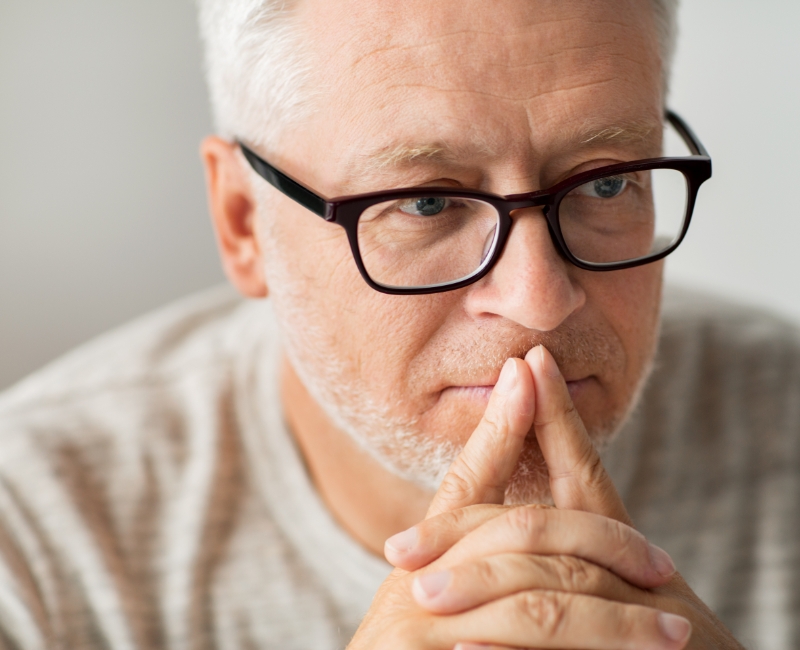 After you have lost teeth, your underlying jawbone is no longer stimulated. As a result, it will begin to deteriorate, causing your remaining natural teeth to lose support. Over time, they may begin to shift toward the open space and eventually become loose. This can lead to additional tooth loss in the future. Not only will tooth loss impact your oral health, but your quality of life as well.
After you have lost teeth, it is not uncommon to have to avoid certain foods because they become too difficult to chew. This can lead to nutritional deficiencies that can hurt your general health. In addition, your appearance will suffer as your facial features may appear sunken from the lack of support. You may also develop difficulty speaking clearly.
Thankfully, you can resolve these complications with dentures or partials.
Who is a Good Candidate for Dentures?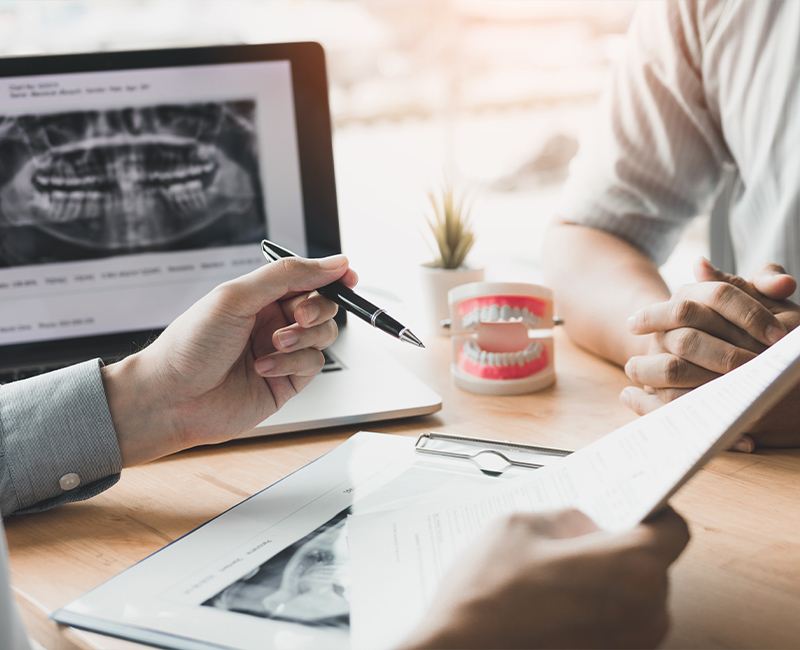 Dentures are far more versatile than you would think! They're able to restore anything from several missing teeth scatter throughout your mouth or an entire arch. At your consultation, Dr. Brong will examine your mouth to ensure you're a viable candidate for this method of tooth replacement. If you have any untreated dental concerns (i.e., decay or gum disease), we can work the appropriate care into your treatment plan to get your smile ready for dentures!
Types of Dentures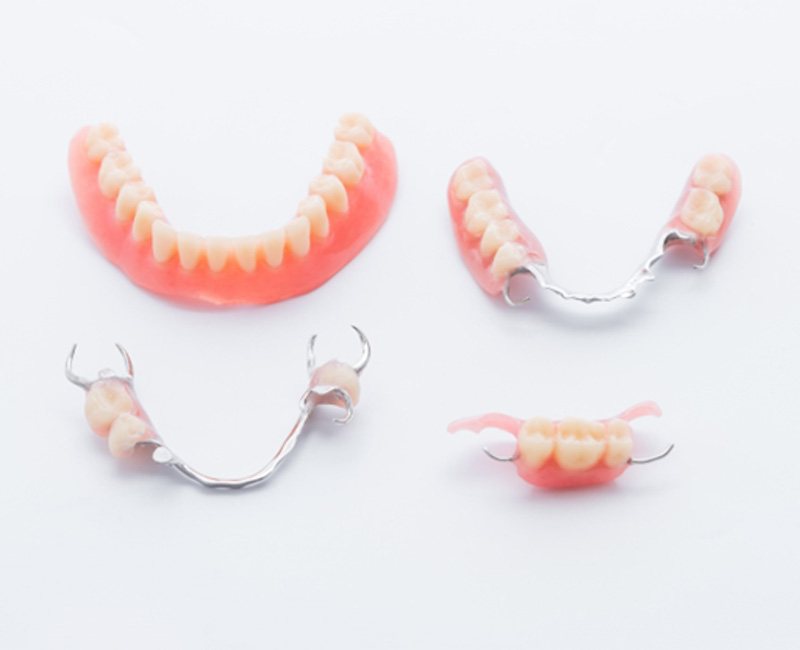 Based on your situation, we'll recommend one of the following types of dentures to help restore the function and appearance of your teeth. Don't worry – we'll explain the pros and cons of your options to help you determine the best one for your smile.
Partial Dentures
If you are missing several teeth, a partial denture is an affordable and convenient solution to fill the empty space. Using impressions of your mouth, prosthetic teeth are created, which are featured in a gum-colored base. It is connected to a metal framework. This allows it to connect to your remaining natural teeth to hold them in place.
Full Dentures
When all your teeth on the top or bottom jaw are missing, you will need a full denture arch. Using impressions of your mouth, an arch is created to ensure the proper fit to minimize irritation and slipping. The prosthetic teeth will be attached to them to restore your oral functions. The denture is then held in place using suction or an adhesive.
Implant Dentures
For more stability, you can choose implant dentures! This solution combines the benefits of traditional prosthetics and modern technology. Each titanium post is surgically inserted into the jawbone to restore the entire structure of your missing tooth from the root up to the chewing surface. Once you're all healed up, we can secure lifelike restorations to your implants to create a natural-looking grin!
The Benefits of Dentures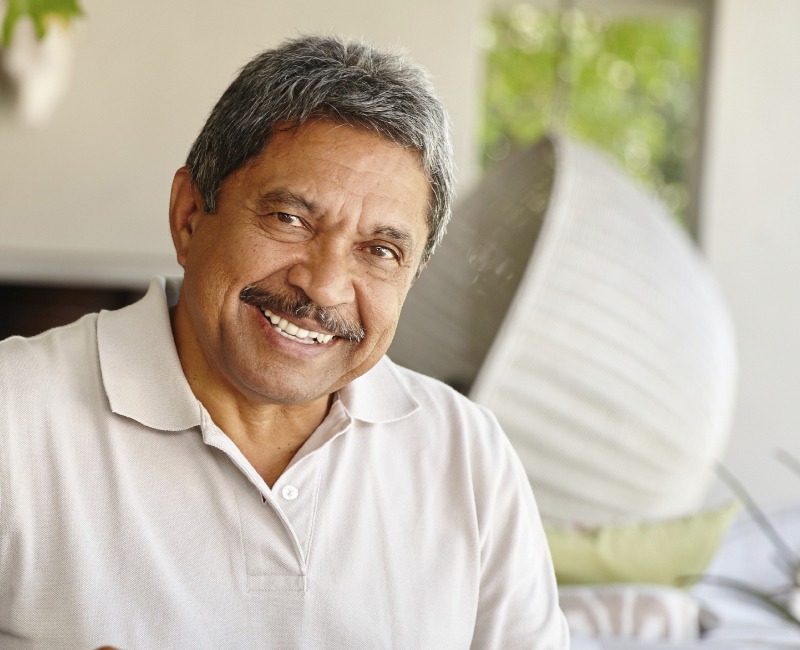 Although dentures have a bad reputation for looking and feeling fake, several advancements over the years now allow them to look and feel more realistic than ever before. Using state-of-the-art technology and precise measurements, there is decreased slipping and irritation, so you can speak, smile, and chew with confidence.
To maintain the proper fit and to promote the longevity of your new smile, it is best to care for your dentures and partials every day at home by cleaning and soaking them. In addition, do not forget to visit your dentist regularly for adjustments and a checkup.
If you are ready to stop living with the challenges of tooth loss, Zumbro Family Dentistry will complete your smile. Contact our dental office today to schedule your consultation. We look forward to treating your tooth loss to improve your quality of life.
Dentures Aftercare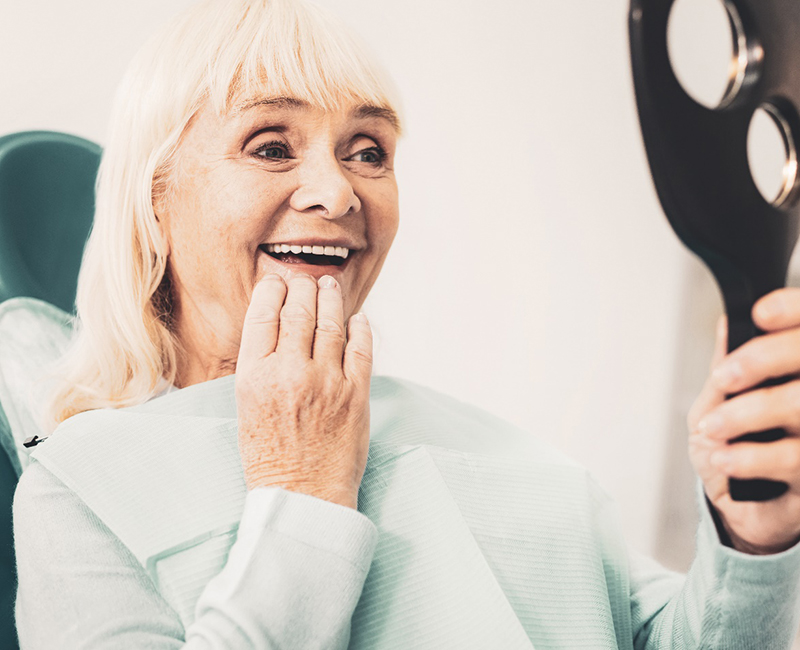 Dentures may not be real teeth, but they still require regular care and maintenance. Keeping your restoration in good shape helps ensure that you will be able to use it for many years before needing to get a new one. Below you'll find some important denture care tips; our team might offer additional advice depending on the specifics of your situation. Bear in mind that even after you get replacement teeth, you should continue to visit our office for regular checkups every six months. In addition to checking for health issues like gum disease and oral cancer, we can also examine your dentures to make sure they're still in good condition.
Removeable Dentures
Remove After Eating
Every time you enjoy a snack or meal, bits of food debris are left on your dentures. To make sure your new teeth stay free of food and plaque, remember to take them out once you're done eating so that you can rinse them off. Make sure that the water is lukewarm; using hot water can lead to warping, which can easily result in dentures that don't fit properly.
Clean Your Restoration
In addition to post-meal rinsing, you also need to give your dentures a thorough cleaning at least once a day. Take them out of your mouth and brush them thoroughly with a denture cleanser or mild dish soap. (You should only use a soft-bristled toothbrush; hard bristles make it too easy to damage your dentures by mistake.)
If you aren't immediately putting your dentures back in your mouth after cleaning them, you need to make sure they stay moist so that they can retain their shape. It's highly recommended that you keep your restoration in a denture-cleansing solution when it's not in use. When it's time to put your denture back in, always remember to rinse it off first.
Keep Your Dentures Safe
While dentures are made to be durable, they could break if you drop them by accident. Before taking your prosthetic teeth out, you should put a towel on your bathroom counter. That way, your dentures will have a soft place to land if you happen to drop them.
You also need to make sure your dentures are safe when they're not being worn. Store them in a place where your children and pets can't get to them.
Remove When You Sleep
Wearing your dentures 24/7 might seem convenient, but doing so can increase your risk of gum disease, pneumonia, and other health issues. Also, the pressure from dentures can reduce blood circulation in your gums, which can lead to sores if you don't periodically give your soft tissues a break. In short, it's better for your mouth if you take out your dentures before you go to bed.
Notice Changes
Does it seem like your dentures have been irritating your gums recently? Have you seen signs of an oral infection? Is your prosthetic damaged in some way? As soon as you notice any problems with your dentures, call our office to see what solutions are available.