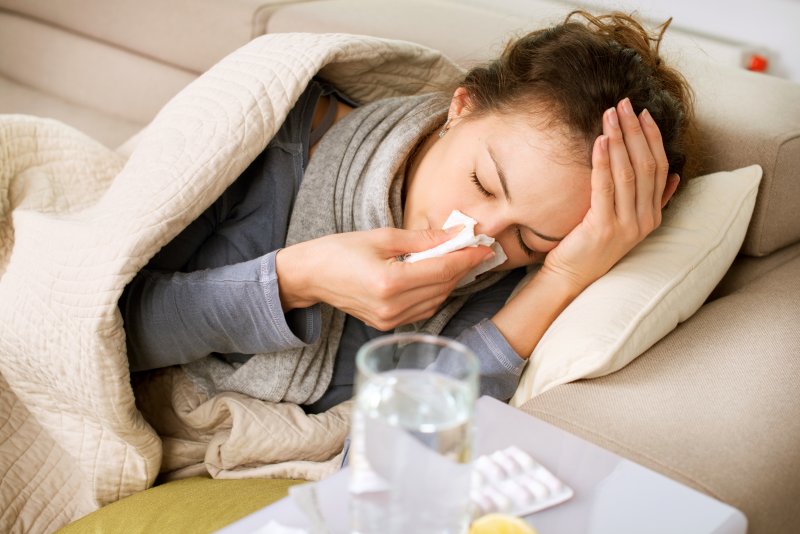 The flu has been seeing exponentially higher rates in recent years, according to figures released by the Centers for Disease Control and Prevention. In the 2017-2018 season, influenza killed approximately 80,000 people, breaking the record of 56,000 previously recorded several decades back.
If you do have the flu, you're probably reaching for cough drops and decongestants on a regular basis. But how do these products affect your oral health? To prevent any cavities from appearing, take note of these flu season tips.
Beat Dry Mouth from Decongestants
Store-bought decongestants help keep your nose clear by removing excess fluids. While drying out your nose can give you much needed relief and make breathing easier, you'll need to take the side effects into account. This includes dry mouth, which makes it much easier for bacteria to move and develop. The more bacteria present in your mouth, the higher your risk for tooth decay and gum disease.
While your use of decongestants should only be temporary, you should still make sure you're always drinking plenty of fluids if you're sick. If you find yourself relying on the decongestant for longer than what's recommended on the box, schedule an appointment with your general doctor. They can give you stronger medications for your flu symptoms.
Pick the Right Cough Drops and Cold Medicines
Cough drops and lozenges are designed to dissolve slowly, making it easy to receive their medicated benefits. While the medicinal ingredients may be soothing to your throat, the flavored ingredients are only causing harm to your enamel. Like all hard candies, sugar is exposed to your teeth for longer periods of time. It's this constant exposure that should make you concerned. This issue also applies for thick and sticky liquid cold medicines, which are often flavored to make them more tolerable. Some also use alcohol, which further contribute to dry mouth.
When using cough drops, always opt for the sugar-free variety. If you don't have any sugar-free options available and need to use them now, make sure to brush your teeth afterwards to remove excess sugar.
When using liquid cold medicine, choose the gel-caps or pills instead. If these are not available, make sure to take them right before a meal. Having a meal promotes saliva production, allowing your mouth to better wash away bacteria and sugar as well as prevent dry mouth.
Manage Common Beverages for the Flu
There are few things more relaxing then drinking a cup of hot tea. Furthermore, fresh-squeezed orange juice in the morning can be incredibly refreshing. Tea soothes the throat while orange juice contains essential ingredients like vitamin C that help the immune system. However, both have the potential to dry out the mouth and soften tooth enamel.
If you're drinking hot tea, avoid black tea as this form is more corrosive than others. Avoid using added sweeteners and try to drink it through a straw to reduce exposure. If drinking orange juice, do it all in one sitting, don't drink it throughout the day. Purchase orange juice that's fortified with calcium for additional oral health benefits.
Looking for more tips or simply need to have your next oral exam completed? Schedule an appointment to get started!
About the Author
Dr. Nicholas Brong understands the importance of managing oral health while recovering from the flu. He can help you manage your oral care habits, diet and inform you of the best steps to take while you get better. To learn more about his practice, you can contact him through his website.