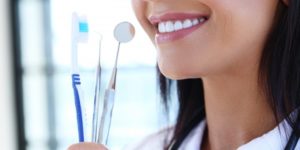 Once you lose all your baby teeth, your set of permanent teeth grow in. Then, you're done—that's all the teeth you get for the rest of your life. In order for them to last an entire lifetime, you need to take good care of them. But how? What are some ways to help you maintain your oral health in the long term? Here are four healthy oral habits from your dentist in Rochester that can keep your smile healthy and happy for years to come.
Implement Daily Oral Routines
Brushing and flossing your teeth may seem like small tasks, but they make a huge difference in your oral health. Food particles mix with your saliva and produce plaque, a white, sticky substance that contains harmful bacteria. These bacteria produce toxins that attack your teeth and gums. If plaque isn't removed, it can accumulate and harden on your teeth, especially along the gum line and between teeth, and the bacteria can cause tooth decay and gum disease. By brushing your teeth thoroughly twice and flossing at least once every day, you can help prevent a lot of oral problems.
Visit the Dentist Regularly
Even if you diligently brush and floss daily on your own, you still need to visit your dentist in Rochester for a checkup and cleaning every six months. Why? They are a trained professional who can spot any potential oral problems even as they are just beginning to develop. This early detection means that your treatment will likely be less invasive. If you wait to see your dentist until you notice a problem on your own, you could experience unnecessary pain, discomfort, and damage to your teeth and gums.
Also, this appointment provides you with an opportunity to figuratively wipe the slate clean. In your daily brushing and flossing, you may occasionally miss some plaque, allowing it to settle and harden on your teeth. When this happens, it is much harder to remove. Your hygienist has the training and the tools to address harmful buildup, preventing issues from developing in the future.
Watch What You Eat
Did you know that what you eat feeds not just you but also the bacteria in your mouth? When you enjoy that sugary treat, so do they. In fact, they thrive on sugar, which encourages their production of those harmful toxins. That's why you need to be careful about what you eat, avoiding foods that contain a lot of sugar or carbohydrates and choosing foods that can actually help your mouth. These helpful foods include the following:
Leafy greens.
Fibrous fruits and vegetables.
Water-filled fruits and vegetables.
Calcium-rich foods.
By making better choices in your diet, you can strengthen your teeth and gums and keep bacteria in check.
Choose Better Drinks
Similar to the food you eat, the drinks you choose can have a significant impact on your oral health. Although they claim to be good for you, sports drinks usually contain high amounts of sugar. Energy drinks are another sneaky source of sugar that can negatively affect your mouth. Instead of these and other more obviously sugary drinks like soda or juice, choose to drink more water throughout the day. Not only does it have no sugar, but it can help wash away food particles and plaque much more efficiently.
These simple oral habits can a significant role in your long-term oral health. Your smile is worth the time and effort you put into keeping these habits. By making your smile a priority and implementing these habits to maintaining it, you can continue to enjoy your teeth now and later down the road. For more information about oral health, contact your dentist.
About the Author
Dr. Nicholas Brong has been practicing for over six years. He got his doctor of dental surgery degree from the University of California in San Francisco (UCSF), and he has advanced training in dental implant and laser dentistry. At Zumbro Family Dental, he and his staff emphasize the importance of preventive dental care. To contact him for an appointment, you can call (507) 288-1066 or click here.