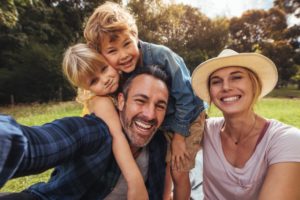 You take the time to brush and floss every single day. Plus, you visit your dentist for a checkup and cleaning every six months on the dot. Even with all of the preventive measures you take, it still seems like your dentist tells you that you have cavities at just about every routine visit. You may have begun to wonder whether genetics may be involved. Is it possible for "bad teeth" to run in the family? Yes, but that doesn't mean you can never enjoy a healthy smile. Here's how you can protect your pearly whites from hereditary dental health problems.
How Genetics Can Affect Your Oral Health
Height and hair color are far from the only things about you that are influenced by your genes. Your oral health is also affected, including the size, shape, and color of your teeth. Unfortunately, this means that the risk of dental problems can also be passed from parent to child. If you remember your parents frequently visiting their dentist when you were younger, there's a good chance that you're predisposed to the same oral health issues they had.
Genetics doesn't necessarily guarantee that a person will have an unhealthy smile. However, if your parents had "bad teeth," keep an eye out for the following:
Misaligned Teeth
If your teeth are crooked or crowded, you can probably blame your parents. Orthodontic issues are primarily caused by the size of the jaw, which is genetic. Depending on the specific positioning of your teeth, you might also develop bite issues that result in chronic jaw pain.
The good news is that you don't have to live with misaligned teeth. You might not even need to wear braces! Your dentist can straighten your smile and improve your oral health with clear aligners like ClearCorrect that practically disappear when worn over your teeth.
Gum Disease
Despite being preventable, gum disease is the leading cause of adult tooth loss in the United States. The CDC estimates that 50% of adults currently have this infection, while 30% of the population has a higher risk for it due to genetics.
If any of your family members have had gum disease, make sure to floss every night and brush your teeth twice a day. Tell your dentist immediately if you notice any symptoms, like gums that are swollen, red, or bleeding.
Cavities
Some gene variations have been found to increase the risk of decay in permanent teeth. While this risk is highest for teenagers and pre-teens, adults with chronic tooth decay may benefit from more frequent cleanings and prescription toothpaste or mouthwash.
You're Not Doomed to Repeat Your Family History
Your genes can certainly contribute to your risk of poor oral health, but that doesn't mean the future of your smile is set in stone. By working together with your dentist, you can come up with a personalized plan to ensure your teeth and gums remain in great condition. When it comes to keeping your smile healthy, prevention is key!
About the Author
Dr. Nicholas Brong achieved his Doctor of Dental Surgery degree from the University of California San Francisco in 2012. At Zumbro Family Dental, he offers multiple services to help patients of all ages maintain healthy smiles, including ClearCorrect aligners to seamlessly straighten crooked teeth. To learn about how you can overcome bad dental genes, contact Dr. Brong at 507-288-1066.