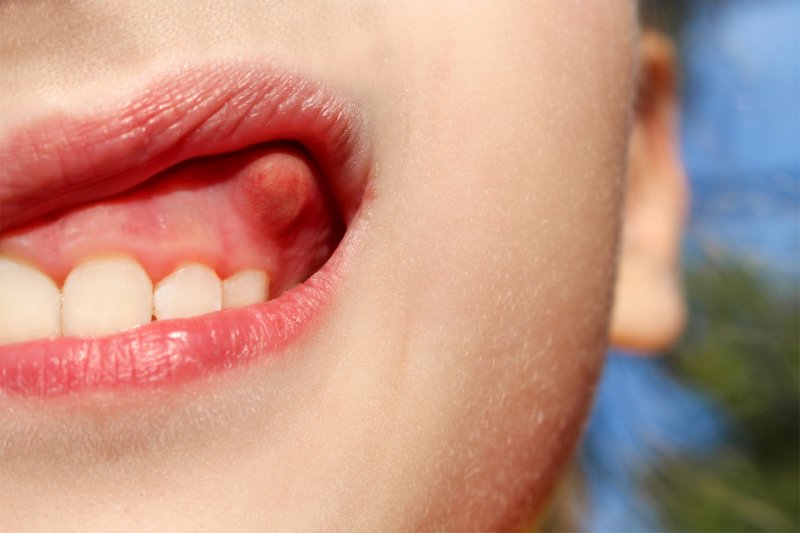 Various gum issues could be considered a dental emergency. Pain, irritation, bleeding, redness — these tend to be serious and call for a trip to your local dentist. However, a gum lump isn't as straightforward. It typically isn't anything to worry about, but they do occasionally point to significant conditions. If you're dealing with a bump on your gums in Rochester, then, it's better to be safe than sorry: here are three possible causes for your issue and signs you need a dentist.
Causes for Bumps on Gums
To decide whether your bump needs urgent care, try to learn its cause. Listed below are three common ones to give you a better idea of what you might have.
Canker Sore:
Canker sores are mouth ulcers that form at the base of the gums. Their symptoms include white or yellow spots, flat or slightly raised bumps, tenderness, and pain while eating and drinking.
Overall, these ulcers aren't a big deal — most heal on their own within one to two weeks. If they get painful, you can apply an over-the-counter analgesic to manage things until they naturally fade.
Dental Cysts:
Dental cysts are small bubbles filled with air, liquid, or other soft materials that can form on your gums. They grow slowly over time and rarely cause symptoms unless infected. You might notice some pain and swelling should the latter occur.
Doctors can remove dental cysts with straightforward surgery that prevents them from returning.
Abscesses:
An abscess is a small collection of pus caused by bacterial infection. One on the gums is called a periodontal or dental abscess. The dental type causes acute pain. Specifically, it involves throbbing pain that happens suddenly or that spreads to the ear, jaw, and neck.
You should see a dentist quickly if you believe you're dealing with a periodontal abscess. Depending on the infection's severity, they may need to remove a tooth or perform a root canal.
Signs You Should See Your Dentist
Whether or not you can find your bump's cause, call your doctor right away if you notice any of the following symptoms in addition to it:
Fever
Throbbing pain
Red or white patches inside your mouth or lips
A lump that doesn't go away after several weeks
A bleeding sore
A sore that doesn't heal or worsens
When in doubt, it's always better to see a dentist to learn the cause of a dental issue. That said, feel free to visit your local practice if you want more details about the bump on your gums.
About the Practice
At Zumbro Family Dental in Rochester, MI, staff are dedicated to excellent service and attentive care. Their team — headed by Dr. Nicholas Brong — offers various preventive, restorative, and cosmetic dentistry services, spanning everything from dental checkups to dental implants. As needed, they also provide sedation and emergency dentistry. For more information or to schedule an appointment, they can be reached at their website or by phone at (507)-288-1066.