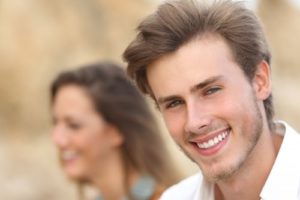 Are you unhappy with your smile? If you have crooked or discolored teeth, you might tend to hide when your friends want to take selfies with you. You might hold back from showing off your radiant personality at work when you're talking to clients or managers. You shouldn't let your flawed pearly whites put a damper on your life. Your Cosmetic dentist in Rochester is here to explain some of the basics of how you can achieve a smile that turns heads wherever you go.
Who Is a Good Candidate for Cosmetic Dentistry?
Your dentist in Rochester is the one who will ultimately determine whether a certain cosmetic procedure is right for you. In general, though, you're a good candidate for a smile makeover if:
Your gums are healthy. If you have signs of gingivitis or periodontitis, this can affect your oral health and your overall health. It's best to correct this situation before you get your pearly whites worked on.
Your teeth are healthy. Your dentist needs to make sure that your teeth are strong enough to stand up to whatever cosmetic procedure you're thinking about having done. They should have healthy enamel and no major structural weaknesses.
You have good habits. Your dental care provider will do the initial work, but after you get your new smile, it will be up to you to maintain it. Before you go in for your mouth makeover, you should already be diligent about brushing, flossing, and avoiding foods that can damage your teeth.
You can afford the work. Most insurance policies don't cover treatments that are purely for cosmetic purposes, so be sure you understand your policy and all of the costs associated with the procedure you want to undergo. Talk to your dentist about payment options.
What Can Cosmetic Dentistry Accomplish?
Cosmetic dentistry can correct almost any unsightly flaws in your smile. Here is a brief explanation of a few common procedures:
All-ceramic restorations. Traditionally, crowns were made of metals like silver or gold — and they stood out like sore thumbs next to natural teeth. All-ceramic crowns are almost impossible to spot.
Tooth-colored fillings. Most fillings are made of amalgam, a dark metal. Tooth-colored fillings are made of a resin that blends seamlessly with your teeth.
Teeth whitening. Everyone wants a dazzling smile! In-office and take-home professional whitening systems can produce dramatic results in a short period of time.
Porcelain veneers. These ultra-thin pieces of porcelain get permanently attached to the fronts of your teeth. They can hide chips, cracks, gaps, discoloration, and more.
ClearCorrect. These clear braces can fix misalignment issues, and since they're removable, they're much more convenient than traditional metal braces.
Are you ready for a brighter, better, more attractive smile? Talk to your cosmetic dentist in Rochester about your options.
About the Author
Dr. Nicholas Brong leads the team of caring professionals at Zumbro Family Dental. He is passionate about helping his patients achieve excellent oral health and beautiful smiles. If you have questions about cosmetic dentistry, reach out to Zumbro Family Dental at 507-288-1066.