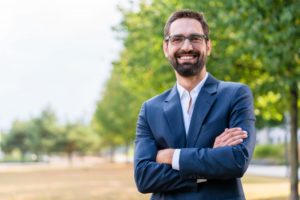 How many times have you laughed today? It's estimated that adults laugh an average of 16 times a day. Unfortunately, you may find it difficult to fully enjoy the moment if you're embarrassed by the look of your teeth. In fact, studies show that an overwhelming number of people who don't like their smiles try to avoid laughing or smiling altogether. Does this sound familiar? If you want to improve your confidence, start with a trip to your cosmetic dentist and get a set of pearly whites you can't wait to show off!
Flawless Teeth Can Boost Your Personal Happiness
When you love the look of your smile, it shows. You'll naturally find yourself smiling more often when you're no longer concerned about hiding your dental imperfections. Not only will this help you feel less stressed and self-conscious throughout the day, but it will also boost your mood as well! Smiling triggers the release of feel-good chemicals like dopamine, serotonin, and endorphins in your brain. The more often these compounds are released, the more often you'll feel relaxed, confident, and optimistic.
A Sparkling Smile Changes Your Social Perception
Your smile, or lack thereof, changes how the people around you see you. In fact, the American Academy of Cosmetic Dentistry reports that 48% of American adults say a person's smile is their most memorable feature during a first impression. In another study conducted by the University of Pittsburgh, participants indicated that the larger a person's smile was, the more trustworthy they appeared. Countless other studies demonstrate that a beautiful smile can cause others to see you as younger, healthier, more attractive, and friendlier than those with average teeth. This means that a sparkling smile will help you feel and look more confident!
Beautiful Pearly Whites Can Advance Your Career
A healthy, confident smile can go a long way in your career. Not only does smiling help you feel happier and more confident, but it puts others at ease and encourages connection as well. Numerous studies demonstrate that beautiful teeth can make you appear more approachable, productive, and able to take on any task given to you. These are the kinds of factors that will set you apart from the crowd during an interview, while you're giving a presentation, or when you're looking for a promotion.
Don't let cracked, chipped, stained, or misaligned teeth take away your confidence. Whatever you don't like about your pearly whites, your Rochester dentist can transform your smile into one of your most prized features.
About the Author
At Zumbro Family Dental, we are dedicated to helping the smiles of Rochester, MN stay healthy and beautiful for a lifetime. Alongside excellent preventive and restorative dentistry, Dr. Nicholas Brong is proud to offer a variety of dazzling cosmetic services, including porcelain veneers, clear braces, and all-ceramic dental restorations. If you need extra support to get your oral health back on track, he also provides a wide range of dental care services to overcome nearly any issue that stands between you and your ideal smile. If you're unhappy with how your smile looks, feel free to contact him with your questions via his website or at (507) 288-1066.