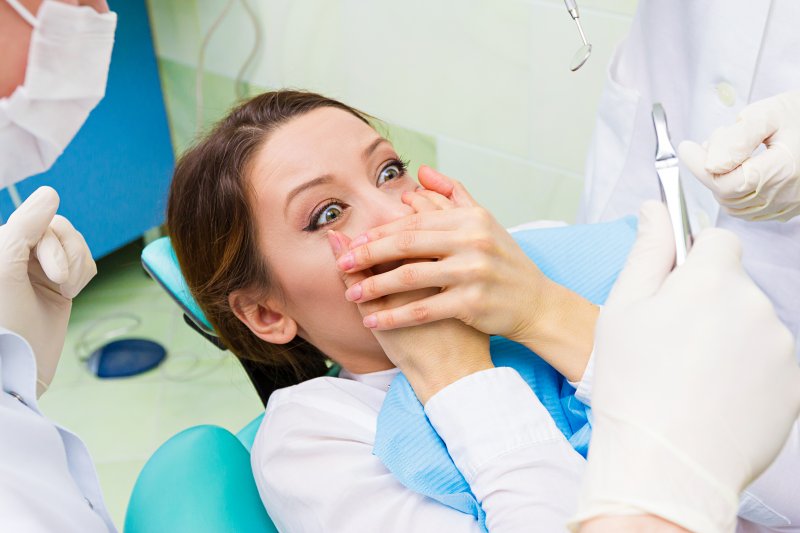 According to the American Dental Association, 22% of adults who avoid visiting the dentist do so out of fear. This keeps them from receiving the care they need and can lead to a range of dental health issues. Whether it's during the Halloween season or any other time of the year, the dentist's office is one place you don't need to fear. Here are some of the reasons why the dentist isn't as scary as you might think
Dental Anxiety and Dental Fear
If going to the dentist makes you feel apprehensive, you might be suffering from dental anxiety. Dental fear, or dental phobia, is a more extreme condition that makes patients feel panic regarding the dentist's office, instruments, procedures, or the dentist themself. People who suffer from dental fear tend to avoid the dentist all together therefore neglecting their dental health. This can lead to serious oral health issues such as cavities and gum disease.
Why You Need Regular Dental Checkups
When you visit your dentist regularly, they can help you avoid an array of dangerous oral health problems. Some of the issues they can help with include:
Plaque, Tartar, and Cavities – Even if you're really diligent about brushing twice per day and flossing once per day, there are still parts of the mouth that are difficult to reach without professional help
Problems Under the Surface – X-rays allow your dentist to see what's happening beneath the surface so they can diagnose issues that may be undetectable by the naked eye
Head, Neck, and Lymph Node Checks – In addition to making sure everything in your mouth looks okay, your dentist will also check your neck, jaw, and lymph nodes for swelling, lumps, or any other abnormalities which can be signs of a major health issue
Gum Disease and Oral Cancer Detection – Your dentist will be able to identify early signs of gum disease or oral cancer to begin immediate treatment
Reasons Why You Shouldn't Fear the Dentist
Though visiting the dentist can be scary at times, regular dental visits are essential if you want to maintain a healthy smile. A few reasons you shouldn't be afraid of the dentist include:
They're here to help and will do whatever they can to make your treatment more comfortable
The sooner you seek help, the more treatable oral health issues will be
With the right dentist, there won't be any repeats of unpleasant past experiences
Brush and floss each day and make regular appointments to see the dentist to keep your teeth and gums healthy and strong. By learning to overcome your fear of the dentist, your teeth will stay where they belong so you can have a more enjoyable Halloween!
About the Practice
At Zumbro Family Dental, Dr. Nicholas Brong and team are dedicated to making sure patients feel right at home. They do so by listening to patients' goals and needs and treating them the same way they treat close friends and family. Their trustworthy team offers the treatment that best fits your unique needs so you can work your way towards a healthy mouth and a smile you'll love. Visit their website or call (507) 322-1210 for more information about how to overcome dental fear and get the treatment you need this Halloween.