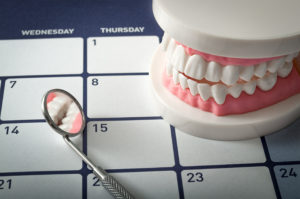 As a frugal individual, you're probably always looking for ways to get the most out of every dollar. One way you can do that is by taking full advantage of your dental insurance. By using your policy to get needed preventive and restorative care, you can protect your smile and make your wallet happier. But how can you get the most out of your benefits? Let's talk about why right now is the perfect time to visit your dentist and put your insurance to work.
Benefits Expire on December 31
It's standard for dental insurance plans to work on a calendar-year basis. Between January 1 and December 31, you have an annual maximum that you can put toward dental services. In most cases, that maximum is around $1,000, though some plans offer $1,500 or more. However much of that money you don't use by the end of the year expires; it won't roll over into the next calendar year.
If you go for years without using your policy to its full potential, you could lose out on thousands of dollars' worth of benefits. For example, if you attend one preventive appointment that your insurance covers at 100 percent, and it only costs $300 or so, you could still have $700 worth of benefits that go unused. If that trend continues for 10 years, that equates to $7,000 of lost insurance payouts.
Of course, you shouldn't get unnecessary dental work solely to use your insurance. However, you should always keep in mind that your policy is there to help keep your smile in great shape.
Getting the Most out of Your Policy
Right now is the ideal time to schedule a checkup because there are still a couple of months before 2018 ends. Therefore, if your dentist points out that you need some restorative work done, you may still have time to use this year's dental benefits to cover the treatment. If you've already paid 2018's deductible, you'll save even more money by scheduling your dental work before your deductible resets in 2019.
But what if you need a major procedure that exceeds your annual maximum? It might be possible to break up the treatment across two appointments — and across two calendar years. Therefore, you may be able to take advantage of two yearly maximums rather than just one.
If you ever have any questions about how dental insurance works or how it relates to your treatment, ask the staff in your dentist's office. They're used to working with benefits providers and can explain the nitty gritty details of your coverage. They can also file claims for you and help you understand your options for paying for the portion of your treatment that insurance doesn't cover.
Time is running out to take full advantage of your 2018 dental benefits! Why not schedule an appointment now so you can keep your smile and your budget as healthy as possible?
About the Author
Dr. Nicholas Brong has been working hard as a dentist since 2012. He is proud to provide quality to care to our community, and he is happy to accept many forms of dental insurance, including MetLife, Humana, Cigna, and more. To learn more about our practice or our payment and insurance polices, contact us at 507-288-1066.