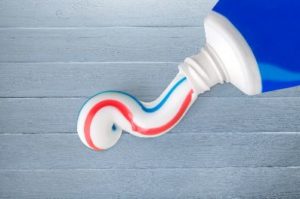 If you've ever gone to the store to buy a simple tube of toothpaste, you know it's not as simple as it seems. You can easily spend 10 minutes in the oral healthcare aisle sifting through all the choices. Whitening or sensitivity? Tartar-control or regular? The list goes on and on, and it gets even more complicated when you're trying to please everyone in the family.
As a dentist, we understand the differences between the various options and will break down some of your choices. If you can't name all the different options now, you'll be able to after reading this blog!
Tartar Control
This formula will help reduce the amount of tartar that you get. Plaque and tartar are very similar, but the difference is that plaque is soft and can be removed with brushing and flossing.
Tartar is a hard, cement-like deposit that can only be removed professionally. These toothpastes can help minimize the buildup, but there are some people that experience increased sensitivity when using them.
Fluoridated
Fluoride is a mineral that strengthens your teeth in much the same way that calcium strengthens your bones. It will counteract the acids produced in your mouth after meals that wear away at your enamel and cause cavities.
Nearly all toothpastes will have fluoride. However, if you buy natural options you'll want to double check because some have it and some don't.
Also, we can prescribe high-fluoride toothpaste if you're especially cavity-prone. They can really make a difference for people who want to potentially reduce the amount of dental work they need!
Whitening
"Whitening" toothpastes won't actually change the color of your teeth from yellow to white, but they will remove surface stains and can give your teeth a cleaner, brighter appearance! These can be particularly helpful if you drink a lot of coffee, tea or wine.
Natural
These toothpastes often omit some ingredients in other toothpastes, such as sulfates (foaming agents). If you have allergies to some of these ingredients, a natural toothpaste might be a great option. As mentioned before, just make sure they contain fluoride for cavity-prevention!
Children's
If you're a parent, you know that getting kids to brush their teeth isn't always easy, so anything that makes it taste better and look more appealing can help.
Only use a pea-sized amount and make sure your child isn't swallowing it, which could give them a stomachache.
Sensitive
If you have cold-sensitive teeth, things like ice cream or ice water can be difficult to eat and drink! These toothpastes contain special ingredients that coat the enamel over time, protecting the nerve of the tooth from being stimulated by cold temperatures.
The effects are cumulative, so the more you use a sensitivity toothpaste, the more effective it will be!
Summary
Regardless of your family's oral care needs, there's a toothpaste for the job. Good brushing habits are the foundation of a healthy mouth and using the right toothpaste is the first step!
About the Author
Dr. Nicholas Brong is a general, restorative and cosmetic dentist who loves helping his patients find the right tools to use at home to achieve excellent oral health. He knows that great hygiene habits can prevent the need for more extensive dental work down the road! If you have any questions, he can be reached via his website or at (507) 288- 1066.