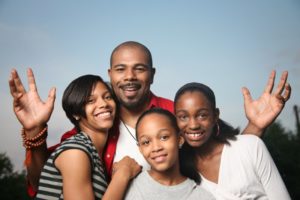 It's almost time for your little ones to head back to school, and you're putting a to-do list together. Your local dentist says that among the things you should add, it's important to include a preventive care visit for the entire family. One reason is that it's a more convenient time to schedule an appointment. Thus, everyone can start the new school year with a clean bill of oral health. Read on to learn why it's so important to work this into your schedule.
Why are Preventive Care Visits Important?
Visiting your dentist semi-annually is vital for oral health because of two key features:
Cleaning – While there, the whole family can enjoy a thorough cleaning. This will clear away harmful bacteria, plaque and tartar that can seep beneath the gumline and cause problems if not removed.
Examination – Additionally, each member of your family will receive a check-up from both the dental hygienist and the family dentist to identify any developing issues that could form into serious problems if not addressed in time.
By getting the cleaning and check-up needed, each member of your family will be protected.
When Should You Schedule the Next Appointment?
Another benefit of bringing the family in for preventive care during the summer is that roughly six months later, your kids will be out of school for the holiday break, so you should take advantage of this time to schedule your next appointment. Thus, you won't have to worry about them being absent from school. Furthermore, by taking this route, you'll only have to make one accommodation in your work schedule when you bring everyone in at the same time.
The Ultimate in Prevention
Here are some of the many dental maladies that preventive care visits help to stop before they manifest:
Cavities
Gum Disease
Tooth Loss
Chronic Bad Breath
Dry Mouth
Sinus Issues Due to Jaw Misalignment
Peace-of-Mind for You
When you take a proactive approach to your family's oral health, you're able to enjoy the peace-of-mind of knowing that everyone is healthy, and you'll then be able to build on the visit by reinforcing the advice that your dentist will provide while you're there.
Furthermore, you'll see huge cost savings. That's because insurance carriers will typically pay up to 100 percent of preventive care expenses.
Visiting the dentist every six months is a win-win situation for the entire family, but it all starts by reaching out to your local professional to schedule the first appointment. A friendly staff member will be glad to guide you through the process!
About the Author
Dr. Nicholas Brong earned his dental degree from the University of California in San Francisco and has since gone on to provide his patients with expert care for nearly a decade. A husband and father of three, he understands the responsibility parents feel for protecting their children's oral health and helps them accomplish that at Zumbro Family Dental. Dr. Brong can be reached for more information through his website.