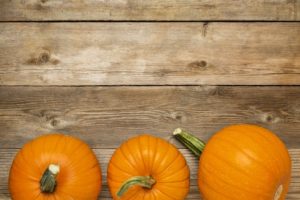 As fall rolls in, you'll see the leaves change colors, but your local dentist says your teeth shouldn't. So as the year rapidly approaches its end, let us look at what you can do to encourage better oral health. Thus, you'll be able to carry the momentum into the new year and enjoy strong and beautiful teeth. Read on to learn some simple practices to incorporate into your life this season!
Smile Beautifully for Fall Photos!
During the fall season, you'll celebrate Halloween and Thanksgiving, which means that somebody is bound to pull out a camera and snap some photos. Here are some tips to make sure your smile and oral health remain unblemished:
Halloween Snacks – There is one word that comes to mind when thinking of Halloween – candy. This is one of the detrimental snacks to your oral health because of the high sugar content, so if you choose to indulge, be sure to brush and floss your teeth immediately after consuming to prevent any decay.
Thanksgiving Delights – Thanksgiving is a big day for eating all types of foods, which can bombard your teeth with sugars and other processed ingredients. It's best to keep your oral hygiene products handy and be sure to drink plenty of water to help rid your mouth of any leftover particles.
By applying what you've learned, you can still enjoy the delicious treats of both holidays while maintaining your oral health. Thus, when the camera flash goes off, you won't have to run and hide.
Managing Alcohol Consumption
For some people, alcohol consumption goes along with fall celebrations. Keep in mind, though, that it's equally as impactful on your oral health as consuming sugary snacks. On the glycemic index (a system for rating how fast substances convert to simple sugars in the body), alcohol is at the top of the list.
Simple sugars are the main source of food for bacteria. The latter are very acidic, which means they contribute to tooth decay and other issues like gum disease if not removed.
So before you head to your Halloween party, it's best to set an alcohol budget that you won't surpass, and be sure to clean your teeth immediately afterwards to prevent the growth of bacteria.
Visiting Your Dentist in the Fall
Another way to protect your oral health while enjoying the fall season is to visit your dentist for one of your semi-annual preventive care appointments. The cleaning and check-up you'll receive will ensure that you fall into an abundance of excellent oral health!
To schedule a visit, reach out today!
About the Author
Dr. Nicholas Brong earned his dental degree from the University of California in San Francisco, and he has since gone on to receive postgraduate training in implantology and laser dentistry. He offers comprehensive dental care to his patients at Zumbro Family Dental that allows them to experience the fullness of life. To schedule your preventive care appointment, you can contact Dr. Brong through his website.