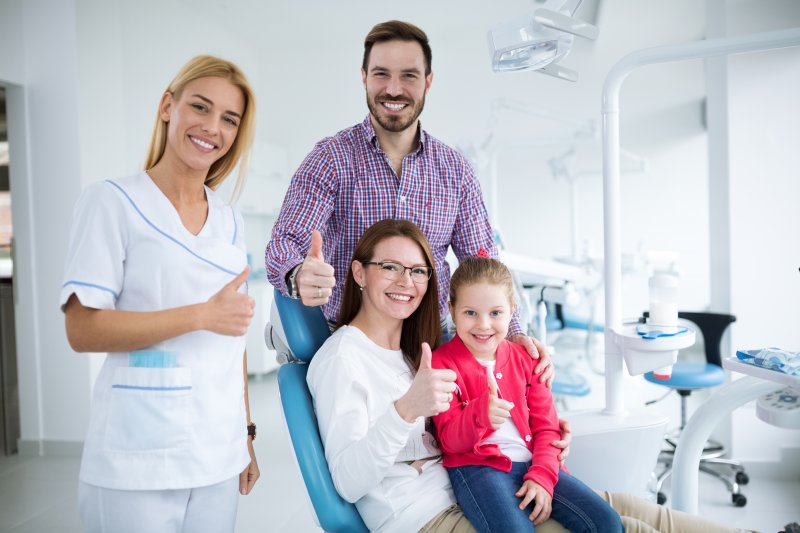 Looking for ways to make life simpler? Tired of wasting valuable time and money on running all over town to different dental appointments? Feeling frustrated by the fact that you or your child need a referral for various services? If this sounds like you, it might be time to consider why it's best to see a family dentist. Spend a few minutes learning about a few of the many benefits you can expect to receive when you opt for one professional to take care of everyone you love.
More Money and Time
Want to avoid spending absurd amounts of money on gas? Instead of toting your family around to various dental offices across the town, opt for a family dentist who can take care of everyone in one location. Finding the right professional who can improve, enhance, and maintain smiles of all ages will allow you to keep more money in your pocket and spend quality time enjoying life with those you love instead of running from one appointment to the next.
One Location for All Your Dental Needs
There is a lot to be said for comprehensive care. While referrals are necessary for certain procedures, finding a family dentist who offers a breadth of services that can range from children's dentistry to dental implants to porcelain veneers and more, you will quickly find that there is no need to jump around from one dentist to another as you age. Instead, your dental home can remain in one location for a lifetime.
Confidence in Care
If you are a parent and want your child to receive the same level of quality, compassionate care, a family dentist is going to be the most beneficial solution. While it's natural that you want a professional who is committed to helping you achieve a healthier, more beautiful smile, you also want an individual who can deliver the same level of commitment to your children. Knowing that your dentist is also taking care of your child can be a reassuring realization – one that gives you greater confidence while helping to secure your trust in their abilities as a family dentist.
Compassionate, Gentle, Straight-Forward
A dental professional who takes care of all types of smiles should have a well-rounded personality and ability to interact with both children and adults. As someone whose teeth are permanently set and progressing into more mature stages of life, you may prefer a dentist who is straight-forward and more detailed in their assessment of your smile. However, while you may appreciate this stance they can take with you, you want them to show compassion and a gentle hand when it comes to your child. The right family dentist can do this with no problem.
Although it might take some time to find the right professional for you and your family, don't rush the process. Make sure you find the ideal family dentist for everyone you love. Once you do, you'll quickly begin to experience these benefits and much more.
About the Authors
Dr. Nicholas Brong earned his Doctor of Dental Surgery degree from the University of California at San Francisco. He went on to complete his dental implant training from the University Associates in Dentistry, Dental Implant Institute of Chicago, as well as laser dentistry training from UCSF. He and his team take pride in caring for all patients who seek them for high-quality dental care. As a family dentist, he is happy to help smiles of all ages, so if you are looking for a dental professional who can take care of all your loved one's dental needs, visit our website or call (507) 288-1066.