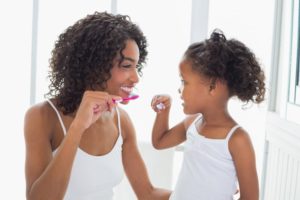 According to surveys conducted by the Center for Disease Control and Prevention, one out of every two adults in the United States suffers from gum disease. Without the proper treatment and dental hygiene regimen, this condition can cause permanent damage to your mouth and embarrassing symptoms like chronic bad breath. Many people aren't aware that this disease is highly preventable, and as long as you take measures to protect your mouth, you will be safe from it. Read on for five tips from your dentist to protect yourself from gum disease.
Keep Up With a Thorough Dental Hygiene Routine
If you're busy, it can be tempting to pare down your dental hygiene routine so you can collapse into bed sooner. For some people, that means cutting out flossing their teeth or not rinsing with antibacterial mouthwash. Unfortunately, this will open the door for harmful bacteria to accumulate in your mouth and produce toxic waste that can infect your gums and cause the early symptoms of gum disease. When you're diligent about keeping up with your dental hygiene routine by brushing twice each day, flossing at least once a day, and rinsing with antibacterial mouthwash daily, you can keep gum disease away.
Take Care of Orthodontic Problems
Having misaligned, crooked, and crowded teeth can increase your risk of tartar and plaque accumulation. If you suffer from these issues, treating them won't just boost your confidence, but they'll also straighten your teeth and eliminate hard-to-reach crevices of your mouth. This will make it easier to brush and floss effectively.
Quit Smoking
Smoking won't just stain your pearly whites— it will also increase your risk of developing gum disease. When you consume tobacco in any form, it weakens your immune system, making it harder for your mouth to fight off the bad bacteria in your mouth. This can lead to swollen, bleeding, and irritated gums. If you need help to quit smoking, the American Heart Association offers a list of quitting hotlines, online resources, medicines, and private programs. You can also ask for guidance from your physician.
Eat a Balanced Diet
Sugar and carbohydrates are the main catalysts in the formation of gum disease. If you frequently enjoy eating sweets and snacks like potato chips or chewy caramels, try substituting fibrous vegetables every so often. As you chew them, they act as natural scrubbers that brush away plaque from below your gumline, limiting harmful oral bacteria buildup.
Don't Put Visits With Your Dentist on the Backburner
Every time you visit your dentist in Rochester for preventive checkups and cleanings, they'll thoroughly examine your mouth for any signs of gum disease. This allows them to diagnose and treat the issue before it has a chance to progress and cause permanent damage, ultimately saving your oral health. If you're guilty of putting your semi-annual checkups and cleanings on the backburner, it's time to make a change so you can prevent the formation of gum disease.
Although gum disease sounds like a daunting oral health problem that's difficult to prevent, it's actually not. With guidance from your dentist and good at-home dental hygiene, you can protect your mouth so you can enjoy your natural smile for the rest of your life.
About the Author
Dr. Nicholas Brong entered the dental field in 2012 and is passionate about providing his patients with high-quality preventive dental care. He understands the importance of tackling oral health problems in their early stages, which is why he conducts thorough inspections of the teeth, gums, and oral tissues during each one of his checkups and cleanings. He has also taken advanced training on several dental topics, including implants and laser dentistry. For questions or to schedule a checkup and cleaning, visit Zumbro Family Dental's website or call 507-288-1066.