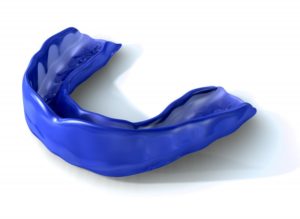 When it comes to mouthguards, the highest priority is protection. Whether you're playing football, boxing, or grinding your teeth at night, it's important that your fragile teeth aren't caught suffering in the process. Mouthguards sold over-the-counter seem appealing, especially when forming them to your smile only requires boiling and biting, however, custom-fitted mouthguards offer a new level of protection and safety.
To help you decide, your dentist in Rochester wanted to compare mouthguards found in store vs. custom-fitted ones you'd get in a dental office. By the end, he'll give you his recommendation.
What to Expect from Store-Bought Mouthguards
Mass-produced mouthguards offer two main benefits: they are cheap and accessible. Whether you buy a mouthguard for sports or for protecting your teeth from chronic grinding and clenching, they can offer a quick and affordable solution. While both are made of plastic, sports mouthguards are typically much thicker, while others are thinner and more pliable, making them usable by more people.
Before it can be worn comfortably, the mouthguard needs to be fitted to your teeth through what is called the "boil and bite" method. This involves heating the mouthguard in water until pliable, then biting into it. Adjustments can be made to it after, but this is generally how over-the-counter mouthguards work.
While using a cheap mouthguard is better than no mouthguard at all, it can still crack and break after only a few months of use. This depends on how hard you clench/ how much damage you take while playing sports, but if you go through multiple mouthguards a year, a stronger solution may be better.
How Custom-Fitted Mouthguards Differ
Custom-fitted mouthguards are prescribed and fabricated by dentists. They are made from a thermoplastic material and molded using a grey, clay-like impression material. Not only are these devices meant to fit your mouth perfectly, but your dentist can adjust the thickness of the mouthguard as needed. That means if you bite down particularly hard, it will sustain pressure for longer.
Custom mouthguards can also be made for sports or nighttime use, but both use superheated plastic that is cooled to create a very durable device. Because of this, custom mouthguards do not lose their shape. Of course, with better materials and fabrication comes a higher cost.
What Your Dentist Recommends
When it comes to effectiveness, versatility, and longevity, there really is no comparison according to your dentist in Rochester. Custom-fitted mouthguards are more precisely made, so they'll always be more comfortable than over-the-counter ones. Not only can they protect your teeth more effectively, but they can also help alleviate jaw tension in patients with TMD symptoms.
Since every mouth is different, your dentist always recommends a mouthguard designed to fit your mouth exactly, and store-bought solutions are not advanced enough to do this effectively.
Do you suffer from bruxism or participate in a contact sport? Schedule an appointment with your dentist today to learn how he can help protect your teeth!
About the Author
Dr. Nicholas Brong earned his Doctor of Dental Surgery degree from the University of California in San Francisco. As a father of three, he understands the importance of protection while playing sports, so you can trust him for a mouthguard that fits right. To learn more about the practice, contact him at (507) 288-1066 or visit his website.