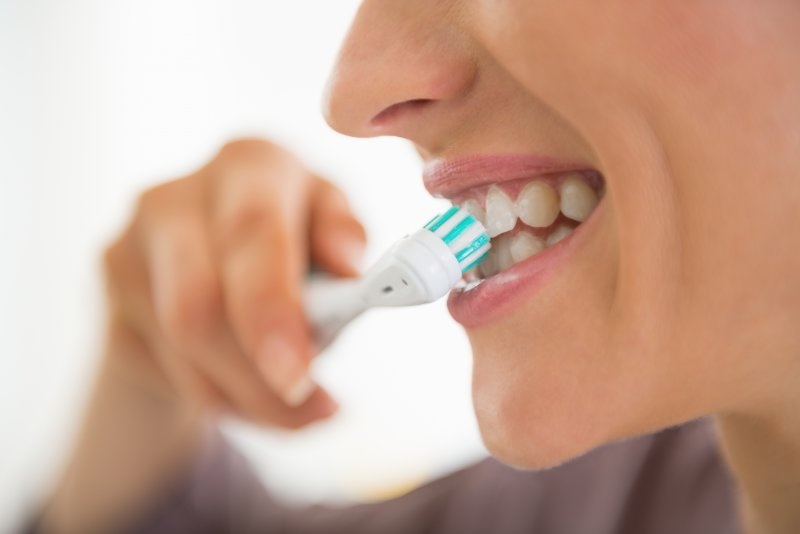 You visit your dentist at least twice a year for a checkup and cleaning; surely that's enough to help your smile last, right? Wrong. As important as these visits are, they won't be enough to keep your teeth and gums healthy if you're not taking care of your mouth in the meantime. If you don't want to become one of the thousands of Americans who suffer from gum disease and lost teeth, take control of your oral health today with these 3 clean teeth habits.
1. Be Careful What You Eat
Certain foods are great for your teeth. For example, fresh, crunchy fruits and vegetables such as apples and celery increase saliva production in the mouth and scrape away bacteria from the surface of the teeth while you chew. In other words, they can help you keep your smile clean throughout the day. And of course, cheese and other foods that are high in calcium will strengthen your teeth's defenses against decay.
On the other hand, candy, cookies, chips, and anything else that contains high amounts of sugar and carbohydrates can easily lead to cavities if you eat them too often. The bacteria in your mouth will turn sugar and broken-down carbohydrates into an acid that wears down tooth enamel. These foods don't need to be avoided entirely, but they shouldn't be consumed in excess either.
2. Stay Away from Acidic Drinks
Soda, certain kinds of fruit juice, and wine are all acidic. That means they'll dissolve the calcium and phosphate that strengthen your teeth and eventually break down your enamel. As such, your teeth will be much more sensitive (meaning you'll feel pain whenever you bite into something hot or cold), and the risk of decay will be much higher. It's best to stay away from these beverages altogether, but if you do indulge from time to time, remember to wait at least half an hour to an hour before brushing your teeth. (Otherwise, you might unintentionally damage the weakened enamel.) If you have a choice, drink water instead; it will help wash away the harmful substances in your mouth.
3. Be Vigilant About Your Oral Hygiene
The best way to avoid oral health issues is to develop a strict oral hygiene regimen and follow it every day. This normally means:
Brushing after every meal, or at least twice a day. (You'll give your teeth the best protection possible by using a toothpaste that contains fluoride.)
Flossing on a daily basis and cleaning between every tooth.
Cleaning your tongue with your toothbrush or a tongue scraper.
Rinsing with mouthwash.
Your dentist may have other suggestions that will help you keep your smile as clean as possible. If you have any doubts about your own oral hygiene routine, make sure to mention your concerns during your next appointment!
About the Author
Dr. Nicholas Brong became a dentist in 2012 and is a proud graduate of the University of California in San Francisco. He helps his patients in Rochester achieve the brilliant smiles they deserve by offering a wide variety of preventive and restorative treatments. If you'd like to schedule a cleaning or are worried about how well you're maintaining your oral health, get in touch with Dr. Brong at Zumbro Family Dental today through his website or by calling (507) 288-1066.