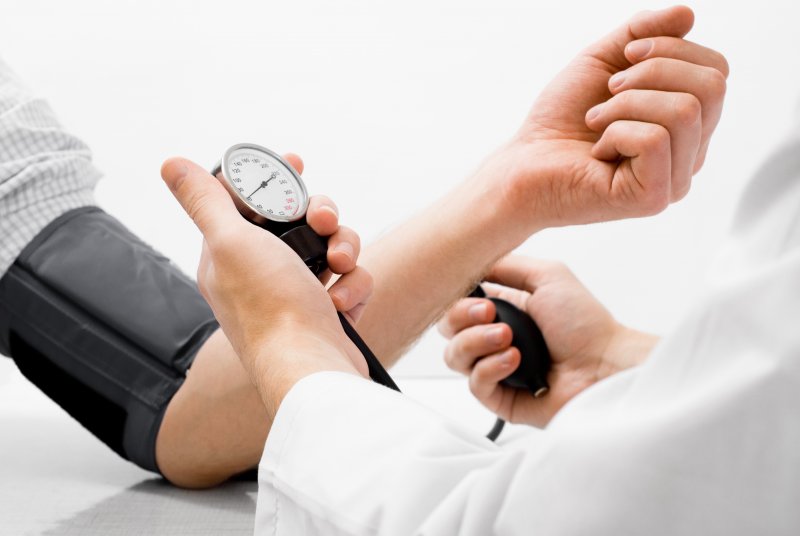 Blood plays a vital role in your health, supplying essential nutrients and oxygen to your organs. Unsurprisingly, people watch out for anything that could harm its circulation — including high blood pressure. Many are attentive to their nutrition, exercise, and stress levels to counter the latter. However, did you know poor gum health is a risk factor for high blood pressure too?
Here's a summary of the connection between gum disease and blood pressure, including ways to prevent the former. Read on to ensure that poor oral health doesn't hurt your heart!
Are Gum Disease & Blood Pressure Connected?
At first glance, you might think gum conditions and blood pressure don't have any connection at all.
On the one hand, gum disease is an infection that damages your gums and jawbone. As a result of excess tartar buildup, it provokes gum swelling and redness in its early stage. If left untreated, it ultimately leads to tooth and bone loss.
On the other hand, high blood pressure (or hypertension) occurs when a large amount of force is placed on your artery walls throughout the day. It often doesn't display any unusual symptoms. Left untreated, it can increase your risk of heart disease, heart attack, and stroke.
Despite such differences, numerous studies have proven the link between hypertension and periodontal disease. One published by Cardiovascular Research in 2020 shows a linear connection between periodontal disease and hypertension. Specifically, people with moderate gum disease were twenty-two percent more likely to have high blood pressure. Meanwhile, those with severe gum disease were forty-nine percent more likely.
Tips to Prevent Gum Disease
Thankfully, it's possible to prevent the plaque and tartar buildup that trigger gum disease. Consider the following ways to do so:
Maintain proper oral hygiene: Brush twice daily and floss once daily to reduce tartar around your teeth significantly.
Don't use tobacco: Avoid chewing or smoking tobacco products. Doing so not only keeps your smile clean but can also prevent health issues like oral cancer.
See your dentist regularly: Visiting your dentist twice a year for a cleaning can preserve your teeth and gums. Checkups would also keep track of dental problems that can be addressed early on.
The best way to keep gum disease from raising your blood pressure is to have great oral health. Talk with your dentist for recommendations on improving your smile in the coming days!
About the Practice
Zumbro Family Dental is a premier dental practice in the Rochester, Minnesota community. Their standard services include preventive, cosmetic, and restorative dentistry. They also offer effective treatment for gum disease, cavities, root canals, and more. Whatever the dental challenge, rest assured that their team will do everything possible to improve your smile's health. For more information or to schedule an appointment, they can be reached at their website or by phone at (507)-288-1066.