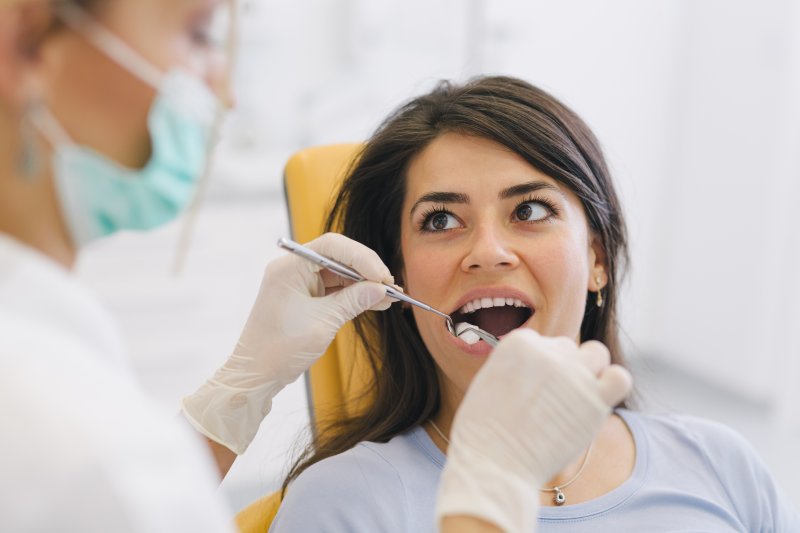 If you're surprised to hear your dentist say that you might be at risk for heart disease, you may be curious to know why that's possible. The reason may be that your gums are not in the best of shape, and unfortunately, gum disease can cause more problems than you think. Not only is your oral health at risk, but the infection can result in serious cardiovascular diseases. Let's take a look at how unhealthy gums can wreak havoc on your body and what you can do to prevent gum disease.
What is Gum Disease?
Ever notice your gums look more red or puffy? What about bleeding? Is your toothbrush tinged with blood when you pull it back? If so, you have the early stages of gum disease, also known as gingivitis. When bacteria and plaque build around the gum line, it can cause your gums to become inflamed and red. Luckily, with more frequent cleanings by your dentist and proper oral health habits practiced at home, you can reverse gingivitis.
However, if this early stage of gum disease is left untreated and it develops into a more advanced stage known as periodontitis, you could be looking at increase inflammation and bleeding, as well as the potential for tooth and bone loss.
How Do Unhealthy Gums Cause Problems for My Heart?
To provide a short and sweet answer, the link is because of bacteria. With periodontitis comes pockets forming within your gums. This allows pus to generate and bacteria to spread beneath your gum line. When this happens, the bacteria can enter the bloodstream. As inflammation and bacteria grow, it leads to plaque forming and hardening on your arteries. This increases your risk for a heart attack.
Hardened arteries don't just cause problems with blood flow and blockage. They can also cause hypertension and lead to a stroke.
What Are Some Ways to Prevent Gum Disease?
Gum disease is one of the most common problems dentists see today, but just because it's often treated doesn't mean you shouldn't take the necessary steps to prevent it in the first place. If you want to keep your gums in check, as well as your overall health, try following a few of these simple tips:
Brush and floss on a regular basis. Brushing your teeth twice a day for two minutes, and flossing your teeth at least once a day will eliminate any bacteria living above or below the gum line.
Rinse with an antiseptic mouthwash. Rinsing after brushing and flossing will help to remove any leftover bacteria or food particles that were missed during your regular oral hygiene routine.
Visit your dentist every six months. If you think practicing good oral habits at home is all you need to do, guess again. Your dentist will be able to thoroughly clean your teeth and gums, as well as detect any problems in their early stages.
Stop smoking. If you smoke, stop now! Kicking the habit can not only improve your overall health, but it can prevent your body's immune system from weakening.
Gum disease is something you want to avoid at all costs. There are special products that can help combat it, so talk to your dentist about additional ways you can prevent gum disease from developing.
About the Author
Dr. Nicholas Brong completed his undergraduate studies at the University of St. Thomas before earning his Doctor of Dental Surgery degree from the University of California at San Francisco. Dr. Brong also has dental implant training from the University Associates in Dentistry, Dental Implant Institute of Chicago, as well as laser dentistry training from UCSF. Dr. Brong and the team at Zumbro Family Dental are dedicated to providing patients with comprehensive dental services, but we aim to help patients take the right preventive measures so there is no need for restorative treatment in the future. For questions about our services, visit our website or call (507) 288-1066.