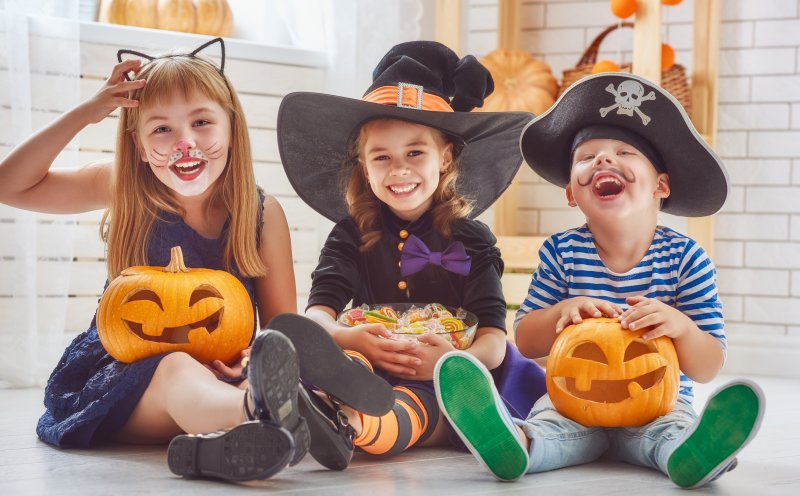 Think vampires and witches are the most frightening sights to see on Halloween? Try learning your child needs a dental filling or crown because their candy consumption has caused a cavity to form. That might be enough to scare even the most terrifying ghost or monster. If you want to keep your little one out of the dentist's chair and avoid the sugar rush that will likely ensue after trick-or-treating, consider these 5 Halloween candy tips to keep your child's teeth cavity-free.
Regularly Brush and Floss
If you want to keep their smiles free from tooth decay, make sure they are brushing and flossing their teeth before going to bed. This will ensure the sugar and acid from various candies are removed from the surfaces and in-between their teeth. Using a soft-bristled toothbrush, fluoride toothpaste, waxed dental floss, and even an antimicrobial mouthwash will produce effective results.
Let Them Choose
You'll likely see your child's bucket or bag is full of all types of Halloween candy this year. Instead of keeping it around for days or weeks, let them choose a few of their favorites and then donate the rest to your local dentist's office or charity. Many organizations happily accept donated candy to send to servicemen and women overseas.
Opt for Water
If your child asks for a beverage when they get home from trick-or-treating, make sure you give them water. Not only does it help to keep them hydrated, but it is also great for flushing out any debris and food particles that are attempting to adhere to their teeth. It also helps to stimulate their salivary glands to prevent dry mouth.
Avoid Soda and Juice
They're already eating plenty of food items that contain lots of sugar, so don't add to it by providing them with a sugary or highly acidic beverage. Sodas and juices are often full of these harmful additives, resulting in many children needing fillings or crowns to fix cavity-laden teeth. Not to mention, these drinks do nothing to keep your kids hydrated or truly quench their thirst.
Make an Appointment
Although the holidays can be a stressful time and leave you with little available time to do anything other than prepare for upcoming festivities, keep your child's regular dental appointments. These visits will ensure their teeth remain free of tooth decay, gum disease, and other common problems as well as provide them with photo-worthy smiles for your upcoming holiday cards.
Halloween doesn't have to be a sugar-free event, but if you want to minimize the risk for additional time and money spent in the dentist's chair for your little one, follow these helpful tips to keep their smiles happy and healthy this season.
About the Author
Dr. Nicholas Brong completed his undergraduate studies at the University of St. Thomas before earning his Doctor of Dental Surgery degree from the University of California at San Francisco. Dr. Brong and his team at Zumbro Family Dental know you and your children are excited about the upcoming Halloween holiday and wish to provide helpful tips to avoid the potential for cavity formations. If you would like to safeguard your family's smiles from the dangers of too much sugar and highly acidic candies, visit our website or call (507) 288-1066.