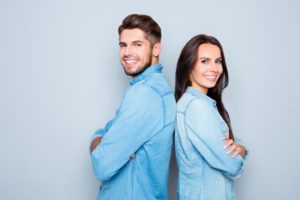 The American Dental Association recommends that you see your dentist at least twice a year for checkups and cleanings to ensure your oral health. When you think about reasons why it's important to see your dentist, you may think about problems like cavities or tooth decay. However, there is a part of your routine checkup that has the potential to save your life: oral cancer screenings. Keep reading to see how your dentist detects oral cancer as part of your routine checkup and cleaning.
What is Oral Cancer?
Oral cancer is essentially skin cancer that occurs in the mouth. While it is less common than other skin cancers, cases of oral cancer have continued to increase for the last 16 years. You may be more likely to be affected by oral cancer if you:
Routinely smoke or use tobacco
Heavily consume alcohol
Have had prolonged exposure to the sun
Have family history of oral cancer
Recent findings have shown an increasing number of people without these risk factors being affected by oral cancer. There also may be a link between the HPV virus that is typically sexually transmitted and oral cancer.
What are the Symptoms of Oral Cancer?
One of the reasons why seeing your dentist every 6 months is important is that symptoms of oral cancer are often hard to detect on your own. Your dentist will check for the common warning signs of oral cancer, including:
Red or white patches in your mouth
Difficulty swallowing
Changes in tissue color
Sores in or around your mouth that won't heal
Pain in your mouth
Pain in your ears
Your Oral Cancer Screening
Besides checking for problems like cavities, decay, gum disease, and more, your dentist can take a few minutes to perform a potentially life-saving oral cancer screening. They will examine your head, mouth, cheeks, gums, tongue, and any other related areas to ensure that you're cancer free. After, they may feel around your jawbone and lymph nodes to ensure that you don't have any lumps or bumps that tip off cancer. This screening is vital because oral cancer is one of the more curable diseases if it's caught early on. The sooner oral cancer is detected, the more likely it is that you can have a full recovery.
When is the last time that you had a routine dental appointment? Contact your dentist to ensure your oral and overall health with a thorough checkup and cleaning.
Meet the Dentist
Dr. Nicholas Brong believes in comprehensive dental checkups, which means he checks for more than just issues with your teeth. He offers a wide variety of services, making his practice a one-stop-shop for you and your whole family. He currently practices at Zumbro Family Dental, and he can be contacted through his website or by phone at (507) 288-1066 for any questions.