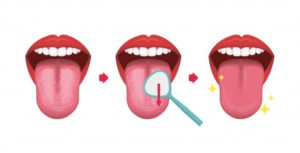 When it comes to your health, you may be used to looking out for differences in your energy levels, your skin, and your blood pressure. One often overlooked window into your health includes your tongue. While your dentist will look at your tongue for any clues pertaining to oral cancer, there are other changes you can be on the lookout for yourself.
Generally speaking, any significant changes in color or the development of pain and lumps may indicate a health problem. Read on to learn from your dentist in Rochester about different conditions your tongue can be in and what it means, as well as how to clean your tongue properly.
A White Tongue
When the tongue is healthy, it's typically pink in color. Even so, the color can vary slightly in darker or lighter shades. Your tongue also features small nodules called papillae on the top and bottom. If your tongue has a white coating or white spots on it, that could be a sign of oral health issues like:
Oral thrush – This yeast infection develops in the mouth and is most common in infants, the elderly, diabetics, and those who take inhaled steroids.
Leukoplakia – This condition is often seen in people who use tobacco products and can develop when the tongue is irritated. Though it isn't inherently dangerous, it can be a precursor to cancer.
Oral lichen planus – This condition is characterized by a network of raised white lines on your tongue. Though it isn't always clear what causes this, it usually resolves on its own.
A Red Tongue
If your tongue is red, this may be a sign of a range of oral health issues, including:
Vitamin deficiency – A red tongue may be a sign of a vitamin B-12 or folic acid deficiency. These can lead to or put you at a higher risk of developing gum disease.
Geographic tongue – Though this condition is usually harmless, symptoms include smooth, red patches on the top or side of the tongue that may change location, size, and shape before clearing up on their own.
Scarlet fever – This infection causes the tongue to look red and bumpy. It can make chewing or swallowing painful. Though easy to cure, it can damage your tooth enamel if left untreated.
A Black and "Hairy" Tongue
The papillae on your tongue grow throughout your lifetime. If they become excessively long, this makes them more likely to harbor bacteria, which can make the tongue look black and hairy. This condition is uncommon and not usually serious. It's most likely to occur in people with bad oral hygiene, diabetics, those taking antibiotics, or people receiving chemotherapy.
A Sore or Bumpy Tongue
If you have painful bumps on your tongue, this may be a sign of bruxism. This condition is characterized by grinding or clenching of the teeth and can irritate the sides of your tongue, therefore causing discomfort. If you notice a lump or sore on the tongue that doesn't go away within two weeks, this could also be a sign of oral cancer.
How to Clean Your Tongue
By properly cleaning your tongue, many of these issues can be avoided. Tongue scrapers are the most effective tool, but a toothbrush is also helpful at eliminating bacteria. Stick your tongue out as far as you can and place your chosen cleaning instrument toward the back of your tongue. Press it against your tongue and move it toward the front. Run it under warm water to clear away debris and bacteria. Spit out excess saliva before repeating these steps until there's no more debris. If you use a toothbrush, make sure that it has soft bristles to avoid damage.
With proper maintenance and regular visits to your Rochester dentist, you can avoid an array of oral health issues. Make biannual appointments to assure that your tongue and the rest of your mouth remain as healthy as possible!
About the Author
Dr. Nicholas Brong earned his dental doctorate from the University of California at San Francisco. He loves having the opportunity to help patients achieve and maintain their healthiest smiles by offering them optimal care. It's valuable to know how to clean your tongue. During your regular dental cleaning and exam, Dr. Brong will do a thorough examination of the oral cavity, including your tongue, and administer treatment for any oral health issues he discovers. You can schedule an appointment on his website or by calling (507) 288-1066.