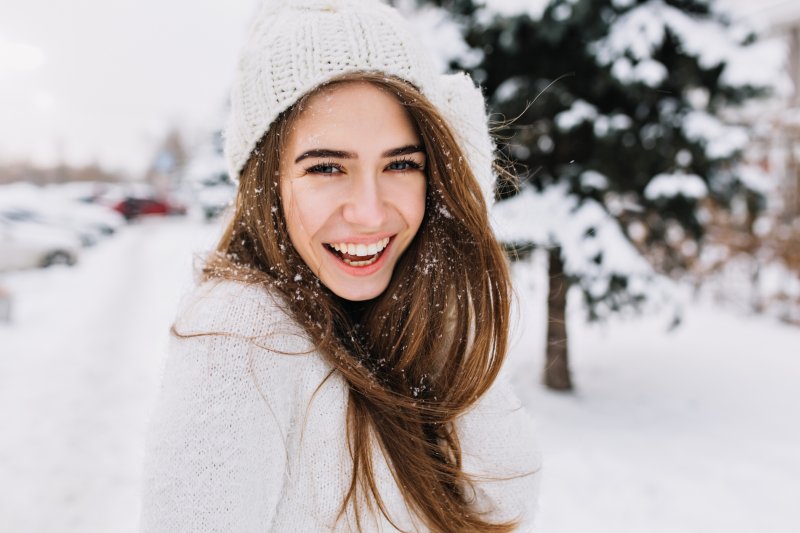 When the weather drops, seasonal drinks, delectable treats, and the holiday season aren't far behind. However, the change in temperature also poses its unique set of challenges, like dry mouth and chapped lips. If you want to keep your smile and your oral health in pristine condition this year, keep reading to learn how to effectively combat winter mouth issues.
Sensitivity
The holiday season may be something you look forward to each year. But the chronic tooth sensitivity? Not so much. Since your mouth is used to your normal body temperature, time outside in the frigid air can lead to sensitive teeth. Therefore, it's a good idea to breathe in through your nose when you are outside, so the oxygen bypasses your teeth and goes straight to your lungs. Additionally, use a straw when you drink hot or cold beverages and make sure to use toothpaste with fluoride in it.
Dry Mouth
Although this whole year has felt a bit like cold and flu season, this particular period is when patients seem to be the most vulnerable. Subsequent symptoms, like a snuffy nose that causes you to breathe through your mouth, can cause your mouth to become dry. Not only can this lead to bad breath, but it can also result in infection and tooth decay. To prevent this from happening, make sure to drink plenty of water, especially if you are sick. It is also a good idea to avoid caffeine (which can cause dehydration) and chew on sugarless gum to keep your mouth moist.
Chapped Lips
Together, wind, cold, and sun are a recipe for chapped lips. Unfortunately, this can be extremely painful and negatively impact your beautiful smile. Luckily, you can protect your lips by drinking lots of water and wearing a lip balm that contains SPF 15. Make sure to apply it often, especially after you're finished eating since it likely rubbed off during the process.
Canker Sores
Canker sores are white or red lesions that develop on the soft tissue of your mouth. Although they can happen at any time of the year, they are especially prevalent during the holiday season when people's intake of acidic foods increases. To prevent this painful sore from hindering your dining experience, do your best to limit spicy and acidic foods. If one does pop up, swish with salt and warm water to clean the sore and promote healing.
This holiday season, you should be focusing on time with your loved ones, not struggling with the above winter mouth issues. Therefore, do your best to drink plenty of water, use lip balm, and stay healthy!
About the Author
Since earning his Doctor of Dental Surgery from the University of California in San Francisco in 2012, Dr. Nicholas Brong has helped countless patients at Zumbro Family Dental achieve pristine oral health. So, if the cold weather has resulted in any of the above conditions, you are simply overdue for your bi-yearly visit, or require emergency treatment, he's the dentist to trust with your smile. To schedule your appointment, visit his website or give him a call at 507-288-1066.