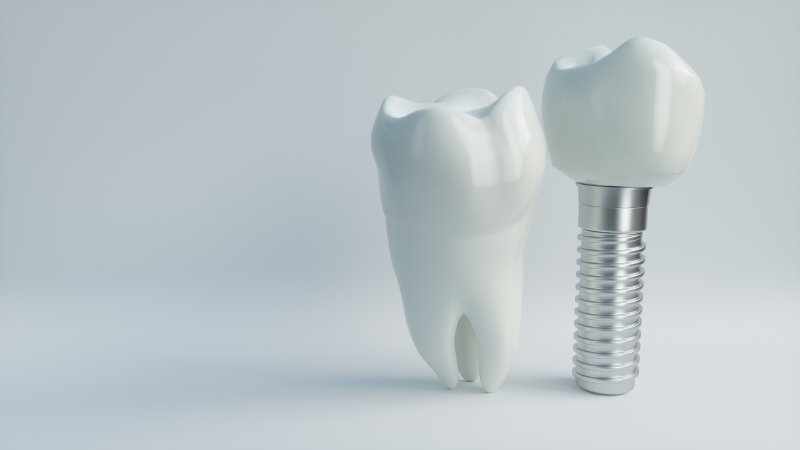 No one wants to have missing teeth. The loss of self-esteem and shame in your own appearance can have you avoiding friends and family and struggling to leave your house. In the past, a full or partial denture or a fixed bridge was the only way to repair and rebuild a smile, but now, thanks to advancements in dentistry, dental implants have become one of the most superior and revolutionary forms of tooth replacement. Hear from an implant dentist who shares what makes these restorations so beneficial to patients with missing teeth.
What Are Dental Implants?
Patients who are experiencing tooth loss can find hope once again thanks to dental implants. These small titanium posts mimic the look and feel of a natural tooth. Surgically placed into your jawbone, the "roots" stimulate the bone, keeping it healthy, strong, and capable of holding up the custom restoration that will live on top of the implant.
Dental implants are designed to offer permanency, greater stability, and full functionality, and they are made to last longer than any other restoration available.
What Are Their Benefits?
When attempting to decern which tooth replacement solution you want to move forward with, it's likely that you're weighing the pros and cons of all your options. Yes, dental implants are move expensive than a bridge or dentures, but their benefits far outweigh traditional prosthetics. Some of these benefits include:
Longevity: Unlike a bridge or set of dentures that last maybe a decade or longer, dental implants are made so that you can enjoy your new smile for 30+ years or even a lifetime!
Maintenance: With dental implants, you don't need any special tools. A toothbrush, toothpaste, floss, and mouthwash are all you need to keep your implants clean, as well as maintaining your six-month visits to your dentist's office.
Stability: Since they are placed into your jawbone, you will spend several months healing at home and allowing a process known as osseointegration to occur. This is when the implant fuses to the bone and surrounding tissue, creating a stable and solid foundation for your smile.
Oral Health: A traditional bridge or denture only sits on top of your gums, replicating the look of your smile. As a result, your jawbone can deteriorate over time. When having dental implants placed, the root of the tooth is essentially put back into the socket and continues to stimulate the jawbone, keeping it from weakening over time.
Natural Look and Feel: The custom dental restoration that lives on top of your implant will be matched to your natural tooth color, size, and shape, allowing it to blend in and create a seamless, beautiful smile.
Functionality: You don't have to worry about missing out on your favorite foods with dental implants. Because they act just like a regular tooth, you can eat, speak, and chew with complete confidence.
Don't let missing teeth keep you hiding at home anymore. Talk to your dentist about whether you are a candidate for dental implants and start living the life you want today.
About the Author
Dr. Nicholas Brong completed his undergraduate studies at the University of St. Thomas before earning his Doctor of Dental Surgery degree from the University of California at San Francisco. Dr. Brong also has dental implant training from the University Associates in Dentistry, Dental Implant Institute of Chicago, as well as laser dentistry training from UCSF. Dr. Brong and the team at Zumbro Family Dental are equipped to help you achieve a healthier smile thanks to dental implants. These revolutionary restorations can make it possible for you to smile with confidence again. To learn how these prosthetics can benefit you, visit our website or call (507) 288-1066.