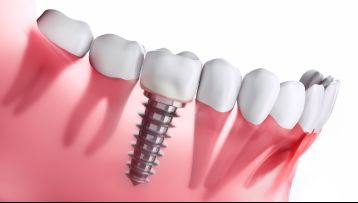 Everyone can agree that enjoying a wide variety of foods is important. Not only is your diet healthier, but it's a big part of your social life as well. Unfortunately, something as simple as having a steak dinner with friends is something that many people can't do after tooth loss. But that doesn't mean there isn't hope! Dental implants help people eat all their favorite foods again and are easily the next best thing to natural teeth. Not to mention that they can be used for people who have lost anywhere from one tooth to all of their teeth. Keep reading to learn about the basics of the procedure and find out how an implant dentist can improve your chewing strength!
What Foods Can You Enjoy With Dental Implants?
Here are just some of the foods that dental implants allow you to eat:
Popcorn
Steak
Nuts
Crunchy fruits and vegetables
Corn on the cob
Sticky foods like gummy bears
However, just like all dental work, the restoration attached to your implant (e.g. crown, bridge, or denture) still needs to be cared for. So you can still enjoy these foods, but be reasonably cautious for good measure.
How Do Implants Improve Your Chewing Strength?
Dental implants are a superior replacement option because they provide much more chewing power than bridges or traditional dentures.
Why? There's one key advantage that implants provide: They replace the roots of your missing teeth. This dramatically improves the stability and strength of your implant and also stimulates the surrounding jawbone to maintain it over time.
What Is the Procedure Like?
Implants require a small, in-office surgery that usually takes 1-2 hours. This can sound intimidating, but patients often say that it was much easier than they expected. Here are the basic steps involved:
First, you'll be completely numbed so that you're comfortable throughout the procedure.
A surgical-grade titanium post, which is the implant itself, will be placed in the jaw. You can expect some mild discomfort in the area for about a week, but over-the-counter pain medication is all usually all that's needed to manage it.
Then it will take 3-6 months for the implant to integrate, or fuse, with your existing jawbone. You won't have any discomfort during this time and can eat and function normally.
Finally, a crown, bridge or denture will be made that seamlessly matches the rest of your smile.
Implants give you the freedom to eat nearly everything you did before tooth loss. Once you experience all the benefits they provide, you may wish you had done it sooner!
About the Author
Dr. Nicholas Brong is a general and implant dentist who is committed to providing his community with outstanding dental care. He knows that dental implants change lives because they look, feel and function better than any other option. If you have any other questions about dental implants, he can be reached via his website or at (507) 288-1066.