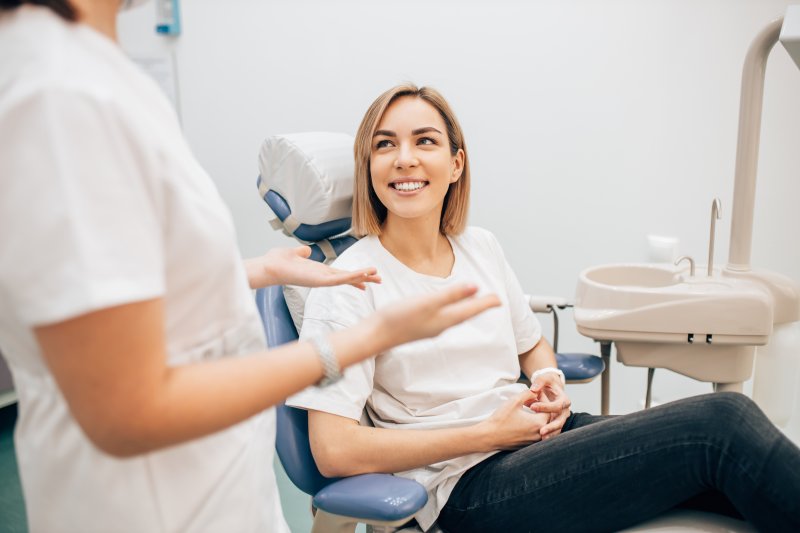 When you first sit down in the treatment chair, it's natural for you and your dentist to exchange some pleasantries before they begin the examination. After all, once your mouth is filled with dental mirrors, explorers, and other dental tools, speaking coherently is virtually impossible. While it may be tempting to exit as soon as you are dismissed, it is important to keep an open dialogue with your dental team. If you are unsure where to start, then keep reading for four questions to ask at your next appointment!
#1. What Can I Do to Improve My Oral Health?
Brushing and flossing are the foundation of a proper dental care routine. However, your dentist can provide insight into additional measures you can implement to take your oral health to the next level. For example, they can look at your gums to determine if you need a refresher course on flossing. Additionally, they can examine your teeth to find out if you are using too much or too little fluoride. Plus, you can use this time to talk to your dental team about specific products that have piqued your interest. That way, you can get the "thumbs up" from your dentist before trying something new with your oral care regimen!
#2. How Can I Avoid Tooth Decay and Other Dental Problems?
Are you ready for some staggering statistics? According to the Centers for Disease Control and Prevention, 50% of Americans have gum disease, 92% have tooth decay in their permanent teeth, and 120 million are missing at least one tooth. To protect you from becoming a part of these shocking statistics, your dentist can recommend products, provide prevention tactics, and share tips on how to keep your oral health in tip-top shape.
#3. Are There Any Procedures My Oral Health Would Benefit From?
Thanks to innovations in technology and modern dental techniques, patients today can benefit from a multitude of treatment options. So, don't hesitate to ask your dentist which restorative or cosmetic dentistry procedures can boost your dental health! Whether it is opting for tooth-colored fillings, straightening your teeth for a better clean, or replacing a missing tooth with dental implants, your dentist can help you take your healthy teeth and gums to the next level!
#4. Is There Anything I Should Tell My Family Doctor About?
Bi-yearly appointments are often viewed as simply a check for cavities. However, your dental team can play an instrumental role in the early detection and intervention of non-dental issues as well. After all, roughly 90% of health conditions have dental symptoms! Therefore, make sure to ask your dentist if they saw any warning signs of diabetes, HIV, oral cancer, or osteoporosis.
To keep your oral health in pristine condition, don't hesitate to ask your dentist the above four questions at your next appointment!
About the Author
After earning his undergraduate degree from the University of St. Thomas, Dr. Nicholas Brong completed his Doctor of Dental Surgery at the University of California in San Francisco. Since then, Dr. Brong has undergone advanced training on dental implants and laser dentistry. Today, he provides high-quality dental care to his patients at Zumbro Family Dental. If you would like to schedule your bi-yearly visit and get answers to your dental questions, visit his website or give him a call at 507-288-1066.