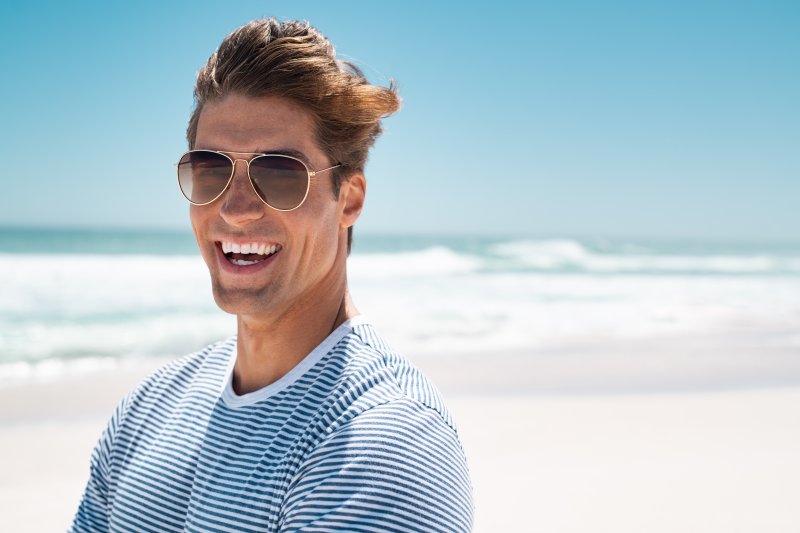 No matter where you and your family plan to vacation this summer, it's important that you have everything you need to ensure the health and safety of you and those you love. To prevent dental emergencies while you're away, you'll want to take special precautions, especially if you have young children with you. To prepare you for your trip and minimize the risk of making a sudden visit to a local emergency dentist, here are 4 things you can do to better protect your smile.
Pack Healthy Snacks
Yes, it's no secret that road trips and plane rides are meant to serve as a sugar- and starch-filled extravaganza. However, if you want to minimize your chances of developing a cavity or toothache while you're away, make sure to pack some healthy alternatives. Fresh fruit, raw vegetables, dairy, nuts, and lean proteins are not only filling but also great for strengthening tooth enamel and improving gum health. A few sweet treats are fine in moderation, but make sure the majority of your snacking consists of nutrient-rich foods that will safeguard your smile (and your waistline!).
Be Careful While Swimming
You may not think this is an odd tip to include in an article about protecting your smile, but the reality is that if you're not paying attention, you could end up needing an emergency dentist. While swimming, make sure you're mindful of the space around you. If you're racing against your kids to see who can get to the other end of the pool quickest, you may run into the wall and accidentally chip or knock out a tooth. As a result, your fun in the sun will quickly turn into an immediate visit to a local dental professional who will need to either reattach it (if possible).
Use Pit Stops to Clean Your Teeth
If your vacation consists of spending hours in a car, or you have one or more layovers before reaching your destination, bring a travel-size toothbrush, toothpaste, and dental floss with you. During your pit stops, use this time to brush and floss your teeth to remove any residue that may be clinging to your teeth and gums. No matter the type of snacks you consume on your trip, you'll want to make sure you take proper care of your oral hygiene during this time. This means spending a few quick moments in the bathroom to clean your pearly whites and keep them cavity-free.
Keep a Dental Emergency Kit On Hand
It's a good idea to keep a separate dental emergency kit with you during your travels. Naturally, you've probably backed band-aids, ointment, gauze, and other medical supplies should an accident occur, but if you want to quickly remedy a dental emergency, here's what you should pack:
An over-the-counter pain reliever (i.e., Ibuprofen)
Saline solution
A small container with a lid or a clear bag
A handkerchief
Gauze
Your dentist's phone number in case of an emergency
Keeping these helpful tips in mind will ensure your smile remains damage-free this summer, allowing you to enjoy fun and sun and make memories that will last a lifetime.
About the Author
Dr. Nicholas Brong wants your smile to remain beautiful and healthy this summer. Whether you're planning to stay home and enjoy everything Rochester has to offer or get away with your family to the beach to enjoy the warm sand, he and his team can provide helpful tips to keep your smile safe from injury. If you want help to ensure your teeth and gums don't experience problems while you're away, visit our website or call (507) 288-1066.