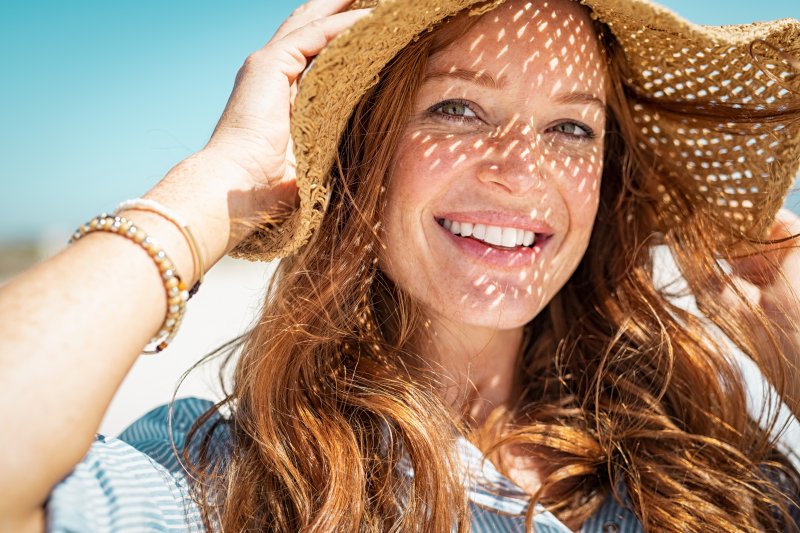 The temperatures are rising, pools are opening, and families are preparing to jet off for a week of fun on the beach. With summer rapidly approaching, it's important that you protect yourself and your loved ones from the harmful rays of the sun. While you may be thinking more about preventing burns on your back or legs, you should also be mindful of how to protect your lips from the sun. A local dentist shares helpful tips to keep in mind when venturing outdoors this summer.
Why Lip Protection is Necessary this Summer
You may be thinking, "I never use lip balm out in the sun. Why start now?" The reality is that your lips are thin and sensitive to the sun. The UV rays can easily penetrate this area of your mouth, causing redness and an uncomfortable burn if exposed too long. Lacking the melatonin needed to better protect them from the sun, your lips should be properly covered while enjoying the pool or beach.
Choosing to forgo precautions, you can be faced with the potential for white blisters to form on your lips, swelling, redness, tenderness, and in a worst-case scenario, oral cancer.
Tips to Protecting Your Smile
No matter if your days will be spent working in the yard, enjoying the pool, or sitting by the beach, proper lip protection is crucial. You can easily safeguard your smile by:
Using an SPF Lip Balm – Finding a lip balm that is at least an SPF 30+ will help to block UV rays and protect your thin tissues from becoming red, sunburned, tender, and damaged.
Wearing a wide-brimmed hat or one that is specifically designed to block UV rays – While you may not want your face to appear a different shade than your body, it doesn't hurt to use alternative ways to even out your skin tone. By wearing a sun-blocking hat, you can reduce your chances of oral and/or skin cancer as well as experience fewer lines and wrinkles caused by sun exposure.
Limit how much time you spend out in the sun – Making sure you have a shaded area you can retreat to now and then can give your skin and lips a break from the sun. This will also give you ample time to re-apply sunscreen and give your body a chance to soak in the new coating before exposing it once more to the sun's rays.
Ways to Treat Sunburned Lips
If the damage is already done, requiring you to find a solution to treat your sunburned lips, you might try these tips to eliminate the discomfort and treat your tender smile:
Use a cold washcloth and apply it to your lips
Use 100% aloe vera to help with healing, but avoid petroleum jelly
If your lips appear dry or start to peel, use a gentle exfoliator
Take an anti-inflammatory to reduce any discomfort
By keeping these helpful tips in mind, you will be free to enjoy everything the summer months has to offer, including time spent in the sun!
About the Author
Dr. Nicholas Brong wants to help you smile more confidently. This is why he and the team at Zumbro Family Dental are pleased to offer beneficial tips that will keep your smile looking and feeling its best this summer. When preparing for hot weather and additional sun exposure, Dr. Brong can provide ways to protect your skin and smile from the effects of UV rays. If you are preparing for a vacation, visit our website or call (507) 288-1066 to learn how we can treat your teeth and gums before you leave and offer useful tips to safeguard your soft tissues from the sun.