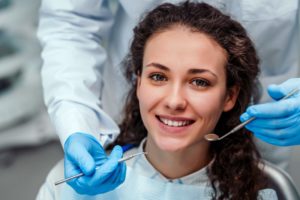 After the kind of year that 2020 was, it's safe to say that most of us are ready for a fresh start. There are all kinds of things to look forward to in 2021, and you may have even set a few New Year's resolutions to try and better yourself this year. Whether you're trying to exercise more often or eat a healthier diet, you're trying to set yourself up for success. However, one aspect of yourself that you might be neglecting is your smile. Here are three reasons why scheduling a dental checkup should be one of your first orders of business in the new year.
Make the Most of Your Insurance Benefits
If you have dental insurance, chances are your benefits renew at the start of each calendar year. This means that you are responsible for meeting your deductible again before the insurance company will step in and begin paying for your care. When you get your checkup and cleaning taken care of now, you can get your deductible payment over with so that you won't have to worry about being saddled with a large dental bill later on.
Get a Fresh Start in 2021
Who doesn't want to use the new year as an opportunity to improve themselves? However, it may feel difficult to find motivation if you have severe dental issues. All of those sweet treats you indulged in over the holidays probably weren't great for your smile, so now is the perfect time to get your teeth looked at. If your dentist spots any problems, like cavities or gum disease, you can get them taken care of early enough that treatment will still be simple and relatively inexpensive. There's no reason to not start 2021 off on the right foot with a healthy smile.
Book an Appointment That Suits Your Schedule
Your calendar may look fairly blank at the moment, but that can easily change. Within a few weeks, it will be filled with various appointments, meetings, and other planned events. The same thing actually happens to your dentist's calendar as well. If you wait too long, it will be difficult to schedule an appointment at a convenient time for you. By calling their office at the beginning of the year, it will be easier to book an appointment that seamlessly fits into your schedule.
This year, you deserve a smile that is nothing less than healthy. Call your dentist's office and schedule a dental checkup and cleaning as soon as you can to set your smile up for success in 2021!
About the Author
At Zumbro Family Dental, Dr. Nicholas Brong offers top-notch dental care to the residents of Rochester, MN and the nearby communities. Since earning his Doctor of Dental Surgery degree from the University of California in San Francisco, he has undergone extensive post-graduate training in dental implant placement, laser dentistry, and more. His practice works with many of the nation's leading dental insurance providers and will happily file your claims to help you maximize your benefits. To schedule your dental checkup, contact Dr. Brong's office at (507) 288-1066 or visit his website.