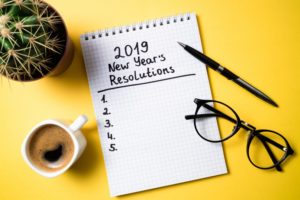 When most people set their new year's resolutions, they have great intentions — but maybe they don't plan as well as they should. Therefore, their resolve to lose weight, save more money, or have more time to themselves doesn't work out like they hoped it would. Why not set a resolution that you know you can achieve this year? Improve your oral health by visiting your dentist. Who knows? Your healthier smile might be the confidence boost you need to reach your most ambitious goals. Let's talk about some of the benefits you can experience when you attend routine dental visits every six months.
A Squeaky Clean Mouth
You might be a diligent flosser and brusher, but that doesn't make you exempt from the need for professional dental cleanings. Tartar is what plaque hardens into if it stays on your teeth for a long period of time. Unfortunately, your regular toothbrush isn't capable of removing this sticky, bacteria-filled substance from your teeth. Only a professional cleaning can do that.
In addition to cleaning your teeth, your hygienist will also point out any areas in which you have room for improvement in your homecare routine. For example, they might notice that you regularly forget to brush the backs of your teeth or that your flossing technique could use a little work. Applying your hygienist's advice can go a long way toward preventing oral health problems later on.
Save Money and Prevent Pain
During a routine exam, a dentist looks at X-rays and performs a visual examination to evaluate your oral health. If they notice any nascent problems, such as small cavities or the first signs of gum disease, they can address those issues right away — well before they cause you any pain. A tiny filling or basic periodontal therapy is much less expensive and requires a shorter recovery period than major dental work.
These visits also help out your wallet in that they allow you to get as much as you can out of your dental insurance. Your policy likely provides greater coverage for preventive care than for major restorative work.
A More Attractive Smile
A professional cleaning can remove some of the surface stains from your teeth, but that isn't all that routine dental visits do to help you look your best. Many dental problems present obvious and unattractive visual symptoms when they progress, including red and swollen gums and severely discolored teeth. Stopping such issues before they reach that point will make sure you can always smile with confidence. Furthermore, maintaining healthy teeth and gums makes you a more viable candidate for cosmetic dentistry procedures, such as veneers or professional whitening.
What do you want to accomplish this year? Hopefully, you'll reach all of your goals for 2019 — including achieving a healthier mouth through regular dental visits.
About the Author
Dr. Nicholas Brong is a general dentist who is proud to serve Rochester and the surrounding communities. He offers a broad range of services, including regular preventive checkups. If you're interested in taking the best possible care of your smile in 2019, contact our office at 507-288-1066.