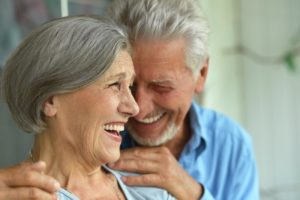 No matter what stage of life you're in, you want to be confident in your appearance. Your smile is one of the first things that someone notices when they meet you, so it's important that you feel great about it. Whether you're twenty or eighty, you deserve the smile you've always wanted, and your cosmetic dentist in Rochester can share all of the options that are still available to you.
Are You Too Old for Cosmetic Dentistry?
If you are tired of hiding your smile because of gaps, broken teeth, or stains and you're wondering if you've missed your window of opportunity – you're in luck! As long as your current oral health is in good condition and your condition is treatable by cosmetic dentistry, you're never too old to enhance your smile!
What Are Your Options?
As people age, dental issues like tooth decay, loss, or damage tend to become more of a struggle. Thanks to the advancements in the world of cosmetic dentistry, people of all ages can benefit from it. Depending on how you want to enhance your smile, your Rochester cosmetic dentist has a list of different options that could work for you:
All Ceramic Restorations
For people with broken or missing teeth, all-ceramic dental restorations are a great way to correct flaws that simple cavity fillings can't fix. Maybe you need dental implants to replace missing teeth, crowns or bridges to sit on top of damaged teeth, or even dentures to restore your entire smile. Regardless of your unique need, you can now receive more life-like and durable restorations possible with all-ceramic materials that mimic the look and feel of your natural teeth.
Teeth Whitening
This is one of the most common choices when it comes to cosmetic dentistry. Who doesn't want a brighter smile? Your Rochester dentist uses a state-of-the-art whitening technique to lighten your teeth by several shades, and they can do it in their office in under an hour.
Tooth Colored Fillings
If the last cavity you had filled was decades ago, there's a good chance it was done with a metal alloy called amalgam. Thanks to evolutions in cosmetic dentistry, your dentist can now use a tooth-colored composite resin material to fill in cavities. In fact, you can even have your old "silver" fillings replaced!
Porcelain Veneers
Porcelain veneers are an extremely popular treatment, even amongst celebrities. Hard shells are crafted to match the color of the surrounding teeth and then bonded to the top of the natural teeth, helping to mask stains that can't be fixed by whitening, cracks, breaks, or gaps.
ClearCorrect™ Clear Braces
If misaligned teeth keep you from feeling confident about your smile, ClearCorrect™ Clear Braces are a great option for you. As an adult, the last thing you want is to deal with brackets and wires (possibly for the second time in your life). ClearCorrect™ Clear Braces work as a set of practically invisible trays that your dentist will utilize to help straighten your teeth so that you can have the benefit of a straighter smile without the sacrifice of wearing braces.
About the Author
Dr. Nicholas Brong has the exciting opportunity to treat patients of all ages at Zumbro Family Dental in Rochester. With extensive experience in cosmetic dentistry, he loves giving the people he cares for the smiles of their dreams. He also ensures that his practice is up to date with all the latest technology so that they can continue to provide superior care. Are you ready to transform your smile? Schedule a consultation online or call  (507) 288-1066.