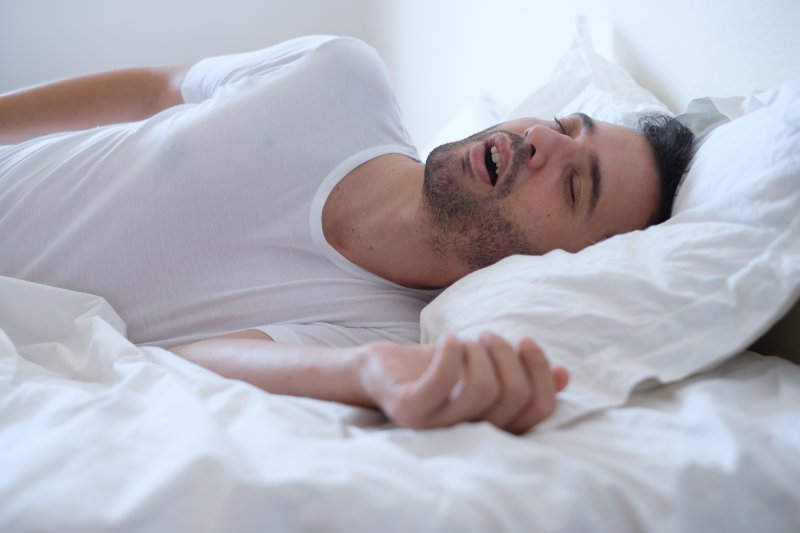 Do you find yourself breathing through your mouth when your nose is stuffed up or you're wearing a mask? You're not alone. However, your nose acts like an air filter, produces nitric oxide, and strengthens your immune system, making it the preferred method. Plus, there are some serious consequences that come with chronic mouth breathing. Keep reading to learn what they are and how your dentist can help!
The Negative Effects of Mouth Breathing on Your Oral Health
At first, it may not seem like breathing through your mouth poses many risks to your oral health. However, decades of research have proven just how detrimental this habit can be. To start, mouth breathing decreases your saliva flow. Since saliva plays an important role in preventing cavities, your teeth are more vulnerable to decay. Additionally, mouth breathing has been linked to sleep apnea and the need for orthodontic treatment! So, it's of the utmost importance that breathing through your mouth is a backup, not your default.
5 Signs You Chronically Breathe Through Your Mouth
Like many unhealthy dental habits, you may be completely unaware that you are breathing through your mouth. Therefore, it's a good idea to keep an eye out for a few common signs:
Dry or cracked lips.
Crowded teeth.
Snoring/open mouth while sleeping.
Increased airway infections, like sinus infections.
Chronic bad breath.
Why Scheduling a Dental Appointment Is Important
Your dentist is your greatest ally when it comes to keeping your teeth and gums healthy. If you chronically breathe through your mouth, make sure to bring it up during your six-month dental checkup and cleaning. In addition to treating any existing dental problems, your dentist can discuss important preventive measures, like chewing on sugar-free gum to encourage saliva production, drinking plenty of water, and coming in for a checkup and cleaning every three months. That way, you can keep your smile free from decay and infection throughout the years.
About the Author
For nearly a decade now, Dr. Nicholas Brong has spent his days helping patients with everything from routine preventive care to last-minute emergency dentistry. He earned his Doctor of Dental Surgery from the University of California in San Francisco before completing advanced training at notable institutions like the University Associates in Dentistry and the Dental Implant Institute of Chicago. As a result, he has the experience, expertise, and skill to address all of your smile-related needs at his conveniently located office! If you breathe through your mouth consistently, are overdue for your six-month checkup, or something in between, don't hesitate to visit his website or give him a call at 507-288-1066.