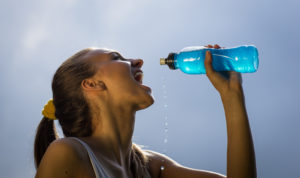 Bike rides, playtime in the park with the kids, weekend getaways to your favorite camping spot — summer is full of fun activities! In all the hustle and bustle of the season, you may find yourself frequently reaching for energy or sports drinks. After all, they taste delicious and can give you the extra boost you need to get through the rest of the day. But is it really a wise idea to indulge in these beverages? Your dentist is here to talk about the consequences that these drinks can have for your oral health.
Sugar and Acid — A Recipe for Dental Disaster
Most sports and energy drinks contain shockingly high amounts of sugar; in fact, a 20-oz bottle of Gatorade has 34 grams of it — that's more than you'll find in a Snickers bar! All of that sugar can wreak havoc on your teeth. As the sweet stuff interacts with bacteria in your mouth, it forms plaque, which eventually hardens into tartar and leads to tooth decay.
Granted, many companies that sell sports and energy drinks also offer sugar-free alternatives to their front-line products. However, sugar-free doesn't mean safe for your teeth. Quite a few of these beverages, regardless of their sugar content, are quite acidic. The acid can quickly wear away at tooth enamel, contributing to sensitivity and decay.
Staying Fresh and Hydrated This Summer
You don't need fancy, overpriced beverages to stay hydrated this summer. In fact, plain old H20 is one of the best things you can consume! Why not invest in reusable water bottle so you can always carry your hydration with you? Purchase one that is insulated so your drink will stay refreshingly cool even when the outdoor temperature soars.
Experts recommend that adults drink six to eight glasses of water per day (and more when you're sweating a lot), but that doesn't mean you have to keep an eagle eye on your water intake. Simply remind yourself to take occasional sips of water, and if you begin to feel thirsty, drink a little more.
What About Electrolytes?
One of the arguments in favor of sports and energy drinks is that they often contain extra minerals and electrolytes. And yes, electrolytes are essential for promoting proper fluid balance in the body and preventing muscle cramps. However, there are ways to get all the electrolytes you need without ruining your teeth:
Snack on fruits and veggies, particularly ones that have lots of potassium, such as spinach and bananas.
Sip on coconut water (find a brand that doesn't have added sugars or flavors). It is full of potassium and tastes great.
Drink plain water that has been enriched with electrolytes.
Don't let your summer beverages choices ruin your smile. To protect your oral health, reach for plain water instead of a sports or energy drink!
About the Author
Dr. Nicholas Brong has been practicing dentistry since 2012. He loves sharing his knowledge with his patients and helping them to achieve and maintain healthy teeth and gums. If it is time for your next checkup or you have questions about how to care for your smile, contact our office at 507-288-1066.