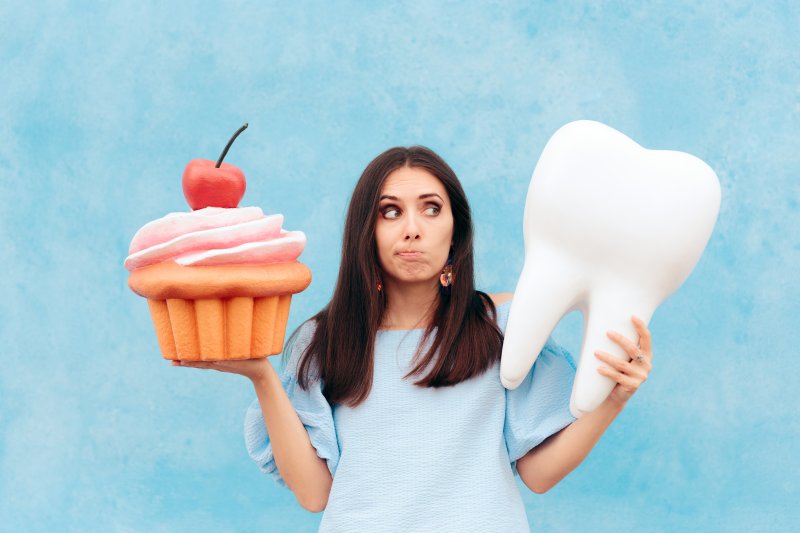 Do you love decadent, rich chocolate? Does your afternoon pick-me-up typically involve some candy? Is your evening not complete without a scoop of ice cream? Then you may have a sweet tooth. Unfortunately, this makes you particularly susceptible to tooth decay, resulting in everything from a small cavity to the need for root canal therapy. To prevent that from happening, brushing, flossing, and visiting your dentist biannually for dental checkups and teeth cleanings are crucial. However, here are some additional ways to prevent cavities when you have a sweet tooth!
#1. Switch Out Your Toothbrush
Did you know that patients who consume higher quantities of sugar experience more plaque buildup? Therefore, it is a good idea to consistently switch out your toothbrush every three or four months (which is what the American Dental Association recommends). Neglecting to do so is the equivalent of using an old sponge to wash dirty dishes: it doesn't work.
#2. Keep Your Dental Tools Close By
In the hustle and bustle of everyday life, it can be tempting to let your oral hygiene routine fall to the wayside. That's where dental to-go kits come in handy! By keeping a travel-sized toothbrush, a small tube of toothpaste, and a bag of floss picks close by, you can complete your oral hygiene routine whether you only have a few minutes left of your lunch break or you are spending the night at a friend's house.
#3. Use Mouthwash
Mouthwash is uniquely designed to kill harmful bacteria and prevent gingivitis, so incorporate it into your daily oral hygiene routine! Just make sure to pick one that does more than just make your breath minty-fresh; you want it to benefit your teeth and gums as well. If you are in a situation where it is impractical to use mouthwash, like when you're in your car, chew on some sugar-free gum or drink plenty of water to rinse food particles from your mouth.
#4. Choose Less Sugary Snacks
If you have a sweet tooth, then chocolate, candy, and other delicious treats are likely a part of your everyday life. Since stopping that behavior cold turkey rarely works, try to cut back on your sugar intake by opting for healthier alternatives. Instead of a chocolate bar, pick a handful of chocolate-covered almonds. Instead of an ice-cold glass of soda, reach for pure carbonated water. It may seem small, but these adjustments can dramatically improve your oral health.
A solid oral hygiene routine and good oral habits are extremely important, especially if you have a sweet tooth. To protect your teeth from extensive restorative dental care, make sure to implement the above tips!
About the Author
Dr. Nicholas Brong earned his dental doctorate from the University of California in San Francisco, and he has been helping his patients achieve optimal oral health for nearly a full decade now! All these years later, he is still extremely passionate about providing superior dental care that results in beautiful, happy smiles. If you have a sweet tooth, are struggling with a toothache, or it is simply time for your six-month dental checkup, don't hesitate to visit his website or give him a call at 507-288-1066.