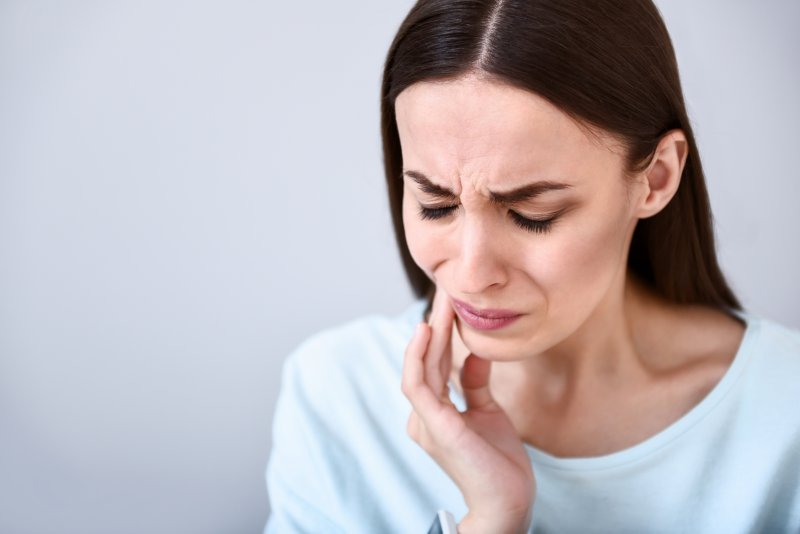 While sleeping, you're jolted awake by a sudden pain on only one side of your jaw. Although the situation can be alarming and confusing, don't worry – it typically isn't a cause of immediate concern. However, that doesn't stop the questions from running through your head. What does it mean? When should you see a dentist? How can you alleviate the discomfort? Luckily, we've got all the answers you're searching for and more – just keep reading!
What Causes Jaw Pain?
There are several reasons why you may experience jaw pain on one side, including:
TMJ Disorders
A temporomandibular joint (TMJ) disorder affects the joint that connects your skull and jaw. A disc separates the bones in this joint and helps it move properly. If it becomes misaligned or the joint is damaged, you might experience pain and other symptoms like tenderness, earaches, clicking or popping when opening your mouth, difficulty opening and closing your mouth.
Oral Health Problems
In some cases, jaw pain on one side can indicate underlying oral health problems. Some common issues that cause jaw pain are cavities, an abscessed tooth, gum disease, tooth decay, growth of wisdom teeth, missing or crooked teeth, and clenching or grinding your teeth.
Sinusitis
Inflammation in your nasal cavities can cause sinusitis. Since the nasal cavities are located behind the cheeks, inflammation can cause pain in one or both sides of your jaw. Usually, this pain is accompanied by other symptoms like nasal congestion, yellow or green mucus, facial swelling, fatigue, and difficulty smelling or tasting.
When to See a Dentist
As mentioned earlier, jaw pain on one side isn't usually considered a dire situation. But if the discomfort is accompanied by other symptoms, it could indicate a more severe condition – one that will require immediate treatment.
If you experience any of the following, contact your emergency dentist right away:
A persistent or recurring pain that doesn't go away within a few days
Difficulty eating, drinking, swallowing, or breathing
Swelling or a fever that doesn't go away
Significant pain that vanishes after a burst of salty liquid that tastes and smells unpleasant
How to Alleviate Jaw Pain
Do you have mild pain in your jaw? You may not need medical treatment! Here are a few ways you can get relief:
Apply a hot or cold compress. Heat can help your muscles relax, giving you relief from aches and stiffness. Alternatively, a cold compress can numb the pain and reduce swelling.
Take over-the-counter pain relief. Medications like acetaminophen (Tylenol) and ibuprofen (Advil) can temporarily relieve your pain.
Rest your jaw as much as possible. Stick to a diet of soft foods that don't require a lot of chewing. It'll help you avoid overworking your jaw muscles!
Massage your jaw. It can help release pain and tension in your jaw. Try some techniques on your own or visit a specialist for help (i.e., healthcare provider, physical therapist, massage therapist).
If you're experiencing jaw pain on one side, use the tips outlined above for some relief. Although it should typically resolve on its own within a few days, you can always seek treatment from your dentist for peace of mind!
About the Author
Dr. Nicholas Brong is passionate about helping patient achieve and maintain optimal oral health. He earned his Doctor of Dental Surgery from the University of California in San Francisco. If you're experiencing one-sided jaw pain, Dr. Brong and his team can help you get the prompt relief you deserve. To make an appointment, visit our website or call (507) 288-1066.