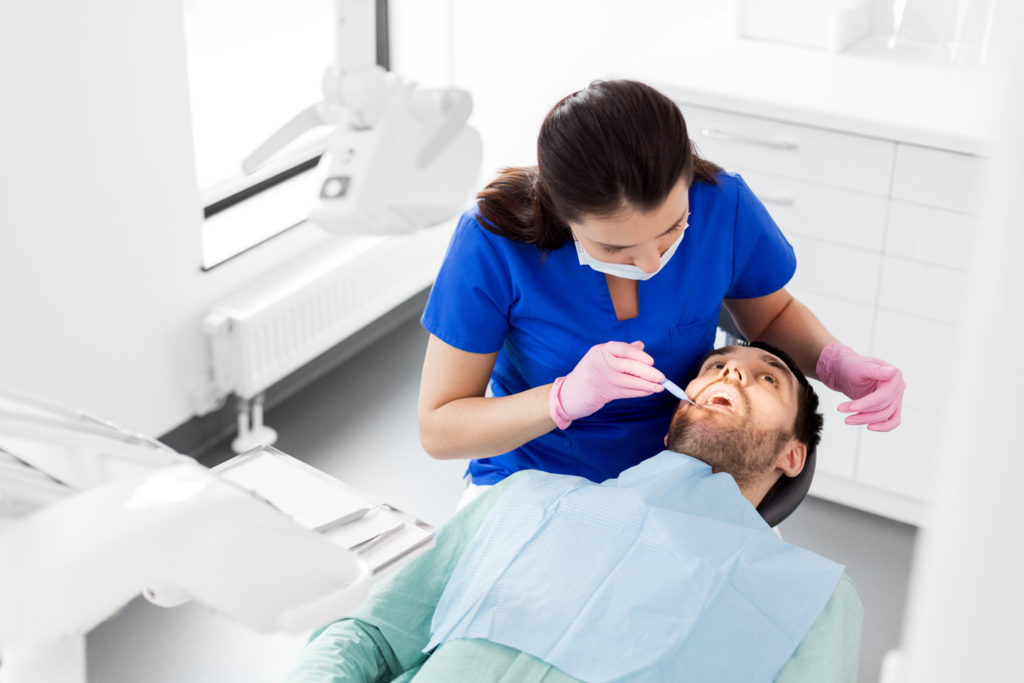 If you do a good job of keeping your teeth clean at home, you might think that a dental checkup is unnecessary. After all, why should you go to the dentist if your teeth are already clean? The truth is that these appointments are for more than just cleaning your teeth. They provide your dentist with an opportunity to detect the presence of other issues in your mouth before they become dangerous. One of these is oral cancer, and there are about 50,000 new cases of it annually. Read on to find out how your dentist plays a role in stopping oral cancer before it becomes serious.
What Causes Oral Cancer?
Oral cancer, like other forms of cancer, is an abnormal growth of cells. While the exact cause is unknown, there are certain factors that can make it more likely to occur, such as:
Smoking
Chewing Tobacco
HPV
An Unhealthy Diet
Poor Oral Hygiene
A Family History of Cancer
What Are The Signs Of Oral Cancer?
The most common sign is a small white or red spot in your oral tissue, similar in appearance to a canker sore. However, unlike these sores, oral cancer will not heal on its own. Other signs to watch out for are:
Feeling a "lump" somewhere in your mouth or throat
Difficulty speaking or swallowing
Numbness on your face
A constant earache on one side of your head
How Does My Dentist Check For Oral Cancer?
Your regular checkups are the perfect time for your dentist to identify potential cancerous growths. They will examine the tissues in your mouth after your hygienist cleans your teeth. If your dentist finds a potential trouble spot, they will order a biopsy. This procedure requires the extraction of a small tissue sample from the suspicious area. It is then sent to a laboratory for further analysis. Once the sample is analyzed, you will be able to know for certain whether or not you have oral cancer.
It's important to note that while your dentist can help detect oral cancer, they can't treat it. Treatment is routinely a team effort between your dentist and your physician. The most common treatments include surgery and chemotherapy.
How Do Regular Checkups Make A Difference?
The more advanced oral cancer is, the harder it is to treat and survive. According to the National Cancer Institute, the survival rate is 83% when the disease is detected in its early stages, but only 38% once it has reached other portions of the body. Regular hygiene visits give your dentist a chance to find the cancer before it grows into a more serious problem.
When you take the time to attend your regular dental checkups, you're doing more than just keeping your teeth clean. With your dentist's help, you're making a choice to stop oral cancer before it can impact the health of your entire body.
About the Author
Dr. Nicholas Brong completed his undergraduate work at the University of Saint Thomas and attended dental school at the University of California in San Francisco. He believes in taking care of dental problems before they become major issues and takes the time to give patients a detailed oral exam at each preventive visit. If you're currently worried about an issue in your mouth, you can schedule an appointment with him on his website or at 507-288-1066.