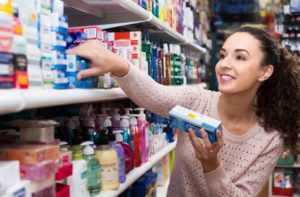 When you're tracing your way down the toothpaste aisle, you usually just go for the brand you normally use. But what if there were toothpastes you could be using that were better-suited for your smile? Your smile is unique, so it's a good idea to hand-select your toothpaste based on that. Your dentist can help narrow down your decisions and provide you with the information you need to purchase what's best for your pearly whites!
Toothpaste for Sensitive Teeth
You've probably seen toothpastes that target sensitive teeth in the stores. Whether your teeth have always been sensitive, or have recently become that way due to a recent operation such as a root canal, it's important to ease your discomfort. Sensitive toothpastes are able to help relieve your tenderness because they have an active ingredient that blocks tiny holes in your teeth that trace their way back to the nerve endings. This helps protect your nerves and eases the sensitivity. Sometimes, you may have to use these toothpastes for weeks before you start to notice any relief.
Toothpaste for Tartar Control
Tartar and plaque are important to target around your gum line because they can cause gum disease and infections. In order to avoid decay, a professional dental cleaning is the best option, but tartar control toothpaste has also been proven to help prevent buildup as well. This toothpaste has tartar-control agents in addition to fluoride that will keep excessive amounts of bacteria from forming. Unlike fluoride toothpaste, it targets tartar and plaque and can heavily regulate bacteria from spreading. It's important to recognize that this toothpaste is not a substitution for your semi-annual cleanings with your dentist.
Natural Toothpaste
If you're looking for an herbal alternative to regular fluoride toothpaste, there are tons of options out there for you. Natural toothpastes don't contain active chemical ingredients that most other options do. They still contain amounts of fluoride and can help prevent things like tooth decay and plaque buildup. In addition, they're biodegradable and cause significantly less irritation.
Toothpastes for Teeth Whitening
Whitening toothpastes can help to reduce the discoloration of your teeth. These typically include similar ingredients as regular fluoride toothpaste, but also include some kind of teeth whitening component like baking powder.
Fluoride Toothpaste
Lastly, the most common kind of toothpaste you'll find is regular fluoride toothpaste. When you walk down the aisle, this is most of the options that you'll see. The main ingredient, fluoride, helps to strengthen the tooth enamel and prevents decay by protecting your teeth from acid damage. It helps to fight cavities as well, so you won't have to worry about getting a filling during your next semi-annual dentist checkup.
No matter what toothpaste you use, it's always important to keep up your regular preventive routine of brushing twice a day, rinsing with mouthwash, and flossing. Scheduling your semi-annual dental checkups can be an opportunity to ask your dentist about which toothpaste is the best option for you.
About the Author
Dr. Nicholas Brong's passion is to provide his patients with the best possible smiles they can obtain. With a focus on quality patient care and genuinely getting to know each of his patient's needs, Dr. Brong is able to provide his community of Rochester with the attention and individual treatments they deserve. If you have any questions or would like to schedule an appointment, please visit Zumbro Family Dental's website, or call at (507) 288-1066.